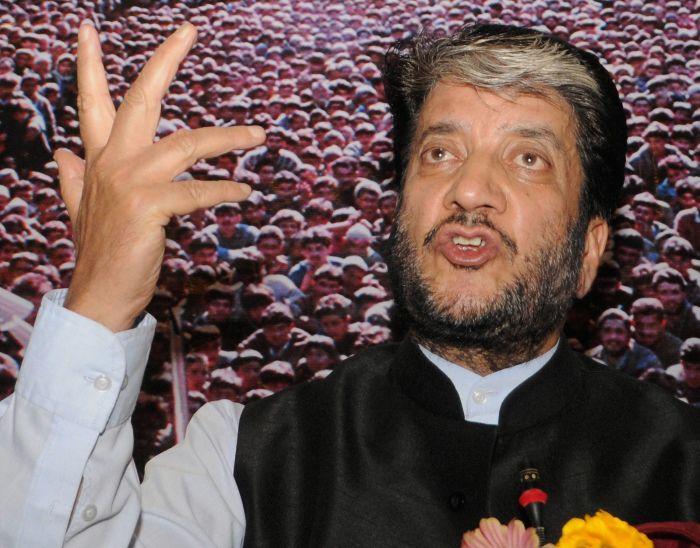 The Enforcement Directorate on Saturday accused Kashmiri separatist Shabir Shah of having been in touch with Pakistan-based terrorist Hafiz Saeed in a chargesheet filed against him in connection with a 2005 money laundering case for alleged terror financing.
The prosecution complaint, the ED's parlance for a chargesheet, filed before the Additional Sessions Judge Sidharth Sharma also names alleged hawala dealer Mohammed Aslam Wani, who is in judicial custody along with Shah.
The court took cognisance of the over 700-page chargesheet and directed the production of the accused before it on September 27.
The chargesheet relied upon 19 witnesses, a senior official said.
The central probe agency, in the chargesheet filed under sections of the Prevention of Money Laundering Act, has furnished Shah's statements where he has allegedly told the investigators that he has 'no source of income of his own' and that he does 'not file any Income Tax Return'.
The agency claimed that its probe had found that Shah had been talking to global terrorist and Pakistan-based Jamat-ud Dawah chief Hafiz Saeed on phone and the most recently he did so was in January this year.
The ED claimed that Shah 'only received donations in cash from locals and his well-wishers towards the party fund which amounts to Rs 8-10 lakh per annum'.
It was also found that Shah does 'not keep records of these donations which he receives in cash only', the ED prosecution complaint said.
The agency has recorded Shah's statements over a dozen times since he was arrested from Srinagar on July 26.
The probe agency also recorded the statement of 36-year-old Wani where he allegedly said that he came to Delhi from Srinagar 'at the directions of Shah' sometime in April, 2003 and that was the first time he had met him.
Wani was arrested by the ED on August 6 from Srinagar.
He was also taken by the agency sleuths to certain locations in old Delhi where he used to take cash for alleged 'hawala deals'.
The ED alleged that Wani was asked by Shah to 'work for him (on a commission basis) in collecting hawala money from Delhi and deliver to him at Srinagar'.
The case dates back to August 2005 in which the Delhi Police's Special Cell had earlier arrested Wani.
Wani had then claimed that he had given Rs 2.25 crore to Shah, following which the ED had registered a criminal case under PMLA against the duo in 2007.
Wani was arrested with Rs 63 lakh, allegedly received through hawala channels from the Middle East, and a cache of ammunition, on August 26, 2005.
During questioning, he had allegedly told the police that Rs 50 lakh was to be delivered to Shah and Rs 10 lakh to Jaish-e-Mohammad area commander in Srinagar, Abu Baqar, and that the rest was his commission.
In 2010, a Delhi court had cleared Wani of terror funding charges but had convicted him under the Arms Act.
Photograph: PTI Photo