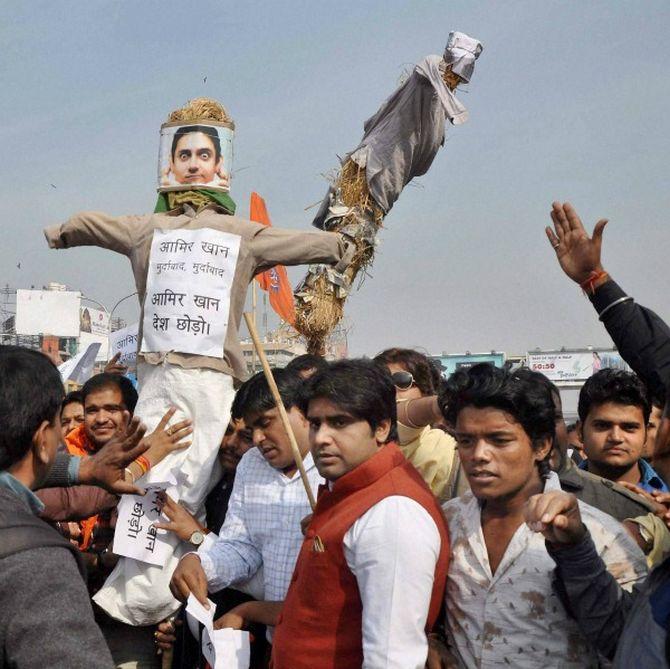 Shiv Sena's Punjab unit has announced a reward of Rs 1 lakh per slap for anyone slapping actor Aamir Khan for his recent remarks on growing intolerance in India.
The announcement was made during the Sena's protest outside hotel MBD Radisson Blu in Ludhiana where Aamir is staying for the shooting of his film, Dangal. During the protest, Shiv Sena workers burnt Aamir's effigies and used derogatory language against the actor.
Rajeev Tandon, Punjab chairman, Shiv Sena, claimed that "any person who will slap Aamir Khan will get Rs 1 lakh for each slap from the Shiv Sena".
Later, responding to his critics, Aamir broke his silence on his intolerance remarks, saying, "First let me state categorically that neither I nor my wife Kiran have any intention of leaving the country. We never did, and nor would we like to in the future.
"Anyone implying the opposite has either not seen my interview or is deliberately trying to distort what I have said. India is my country, I love it, I feel fortunate for being born here, and this is where I am staying.
"I stand by everything that I have said in my interview. To all those people who are calling me anti-national, I would like to say that I am proud to be Indian, and I do not need anyone's permission nor endorsement for that."
Aamir also received support from choreographer-turned-filmmaker Farah Khan who said that it was wrong to attack the actor. "I was waiting for this particular question. I just want to say that there is no intolerance but when somebody has a point of view everybody jumps on him and attack him," Farah Khan said during an event in Mumbai.
Image: Protesters burn an effigy of Aamir Khan over his remarks about the growing intolerance in India. Photograph: PTI