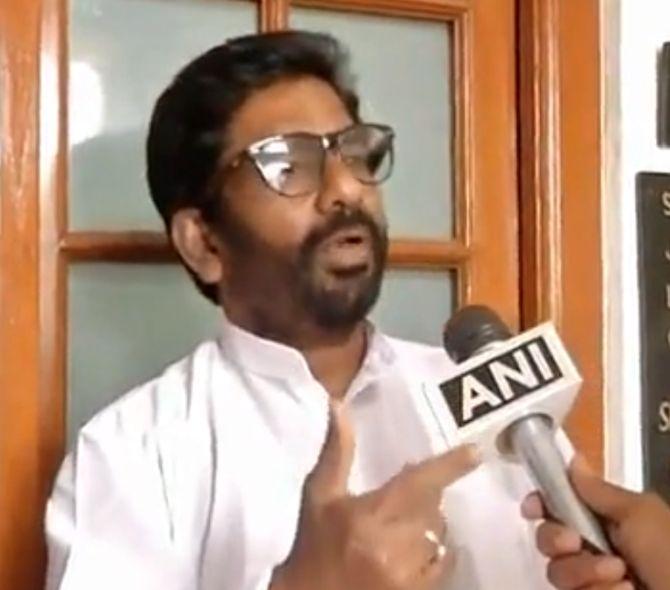 A Shiv Sena MP on Thursday repeatedly hit an elderly Air India officer with sandal in a brazen burst of fury over being unable to travel business class despite having insisted on boarding an all-economy flight.
Ravindra Gaikwad, the Lok Sabha MP from Maharashtra's Osmanabad, slapped and, by his own claim, hit 60-year-old duty manager Sukumar 25 times with his sandal when the official went to persuade him to disembark after he refused to alight, holding up the aircraft for over 40 minutes.
The national carrier has filed two FIRs against the MP, known for his strong-arm tactics, while the Shiv Sena has sought an explanation from him. While one FIR relates to assault, the other is for holding up the aircraft.
Police said the officer, Sukumar, has been sent for medical examination and based on its report a case will be registered.
According to an Air India spokesperson, its duty manager at Delhi airport was hit with slippers several times by Gaikwad, who complained about having to travel economy -- on an all-economy flight -- even though he had a business class ticket.
"The MP turned violent, broke the duty manager's spectacles, tore his shirt, hit him with slippers 16-17 times," Air India sources said.
Gaikwad had heated argument with AI officials at the time of boarding the plane in Pune for the national capital too over the flight not having business class seats.
According to the airline, Gaikwad was booked on an open ticket in business class with Air India which allows a passenger to take a flight on any date.
But Gaikwad insisted on taking the 7:35 am AI 852 Thursday morning from Pune to Delhi.
When the aircraft landed in Delhi, he refused to disembark despite attempts at persuading him to do so. Sukumar also tried to pacify the MP, who vociferously complained about the morning flight to Delhi from Pune not having business class.
The MP, who was unapologetic about his actions, even boasting about it on national TV, claimed it was the officer's threat to complain about it to Prime Minister Narendra Modi that made him lose his cool.
"I first asked him to lower his voice as his blood pressure would shoot up. He then said he would complain to Modi. Then I slapped him. I hit him 25 times with my sandal.
"I am the Shiv Sena MP, not of the BJP, to tolerate abuses," he said.
WATCH: I hit him 25 times, brags Sena MP after assaulting Air India employee
Gaikwad, bragging about the incident, said,"I was about to throw him off the plane."
He boastfully claimed that he held up the plane for "full one hour" and did not allow the maintenance staff to clean the aircraft.
When asked whether he had any regret for his actions and if he would apologise, a defiant Gaikwad, who was once in news for having shoved down the throat an allegedly stale chapati to a fasting Muslim caterer while complaining about the quality of food served at the Maharashtra Sadan in New Delhi, remained defiant.
"I have no regret. The officer should come and apologise. The Air India CMD needs to apologise to me instead. I am a customer," he told Times Now news channel. On persistent query whether he would tender an apology if Shiv Sena leader Uddhav Thackeray asked him, he said, "Yes, I will. But only if Uddhavji tells me, nobody else."
The Shiv Sena, meanwhile, has sought an explanation from Gaikwad.
"The party has sought an explanation from Gaikwad over the incident. The Sena does not condone violence of any kind," said Harshal Pradhan, media adviser to Sena president Uddhav Thackeray.
"We have also sought a version of the incident from the AI staffer. The Sena has a workers' union in Air India," he said.
Earlier, Sena spokesperson Manisha Kayande had said, "The Shiv Sena does not subscribe to any such reaction by any of our party members."
Civil Aviation Minister, Ashok Gajapathi Raju, who is a Telugu Desam Party MP from Andhra Pradesh, condemned the incident, saying physical assaults will not be "encouraged".
"Physical assault won't be encouraged and will always be condemned. (This) Should never have happened...attacking an airline staffer doesn't make sense," Raju said.
"Unruly behaviour and violence on our aviation network is regrettable. Each such incident will be investigated and appropriate action taken," Minister of State for Civil Aviation Jayant Sinha tweeted.
In a message to employees, Air India Chairman and Managing Director Ashwani Lohani said, "The management is with the employees, always."
"He became very abusive and used foul language and abused me with all bad words and adjectives in Hindi," Sukumar told police in his complaint.
The incident has prompted Air India to examine the possibility of having a no-fly list for unruly passengers, who according to global airlines body IATA, are one of the top three safety issues that concern cabin crew across airlines.
"Air India is examining creation of no-fly list of unruly passengers on the lines of other carriers," a senior airline official said in New Delhi.
Disagree with the Shiv Sena MP's actions? BOO him!