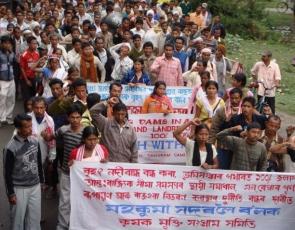 In an unprecedented incident, a protestor from the Krishak Mukti Sangram Samity, a peasants' group led by Right To Information activist Akhil Gogoi, died after setting himself ablaze in front of the high-security state secretariat complex in Guwahati on Monday.
The incident comes a day ahead of Congress Vice President Rahul Gandhi's tour of Assam.
The agitator Pranab Bodo, 45, was taking part in a protest demanding land rights for 85,000 families in and around Guwahati.
Bodo, a carpenter from the Gorchuk area of Guwahati, set himself on fire and ran in front of policemen and mediapersons on duty creating panic.

He was immediately rushed to the burn injury unit of the Guwahati Medical College Hospital.

"Doctors tried to save his life. Bodo died around 4:30 pm. He suffered 100 per cent burn injuries," Hospital Superintendent Ramen Talukdar said.
KMSS protestors tried to disrupt a government function for distribution of land settlement documents to the landless by Assam Chief Minister Tarun Gogoi. The body, which has been championing for landless settlers in the city, opposed the process on the ground that the government did no accepted its conditions for selection of landless settlers.

The KMSS demands land settlement for those living on hills, forestland and wetlands in and around Guwahati. This has been rejected by the state government in view of a Supreme Court verdict against allowing human settlement on forestland and wetland. It demands land documents for all those landless settlers, who have been living in city areas before June 22, 2011.
Despite the protest, the government went on with the function for distribution of land documents to 500 settlers in the first phase.
After gracing the function, Gogoi termed the self-immolation bid very unfortunate and blamed KMSS leader Akhil Gogoi for it. He said the KMSS agitation is not justified as the government has started land settlement process as per their demands. The CM ruled out accepting KMSS's demand.
Meanwhile, the KMSS has called off the agitation following the immolation attempt so that such incidents do not recur. Akhil Gogoi said the government was responsible for the incident.

Image: A protest by the Krishak Mukti Sangram Samity

Photograph: Krishak Mukti Sangram Samity/Facebook