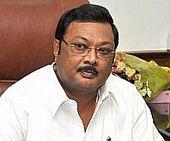 Additional security was on Friday 'restored' at the Madurai house of Union Chemicals and Fertilisers Minister M K Alagiri, a day after the Dravida Munnetra Kazhagam strongly protested the withdrawal of police personnel.
Armed police personnel are guarding the house, police officials said. Additional security provided by Madurai police under a local arrangement was withdrawn on Thursday, triggering strong reaction from ruling DMK and Alagiri, son of Chief Minister M Karunanidhi.
Police had earlier said they had pruned security arrangements as per norms fixed for a Union minister. Reacting strongly to downscaling of the security, Alagiri told mediaperons on Thursday night that "The motive for pruning the security, when I was away in an intensive election campaign, particularly without any prior notice, was to sabotage the electioneering."
"...If anything happens to me or my family or property then the Election Commission of India, District Election Officer and Police Commissioner will be held responsible," he said.
Police Commissioner P Kannappan had sent a van to withdraw all the policemen immediately, he alleged.
"What is the need for such an urgency? The commissioner had intimidated the policemen that they would be suspended if they did not obey his orders. This is a blatant misuse of power," Alagiri said.
He alleged that police was intercepting his vehicles frequently and "harassing" him with the checking and said he had sent telegrams to the Prime Minister, Union Home Minister and others in this regard.
Alagiri also criticised the Madurai District Collector U Sahayam for allegedly stating that it was natural for people to look for a change during elections.
The ruling DMK had alleged that the entire police security at the residence of Alagiri had been withdrawn on Election Commission's orders and claimed security guidelines for a Union minister had been "blatantly violated".
DMK has been critical of many decisions of the EC ever since the announcement of assembly polls slated for April 13. Karunanidhi had accused the EC of transferring IPS and IAS officers 'unilaterally' based on complaints from All India Anna Dravida Munnetra Kazghagam.
Though the EC did not issue any order to withdraw the extra force, local police was apprehensive that the arrangement could be questioned at some point of time later as scores of police personnel had been deployed on security duty near Alagiri's house, an official of the Intelligence Bureau had said.
Image: Union Minister M K Alagiri