Curfew-like restrictions were imposed in large parts of Srinagar on Saturday to foil Mirwaiz Umar Farooq's rally to commemorate his father's death anniversary. Mukhtar Ahmad/Rediff.com report from Srinagar.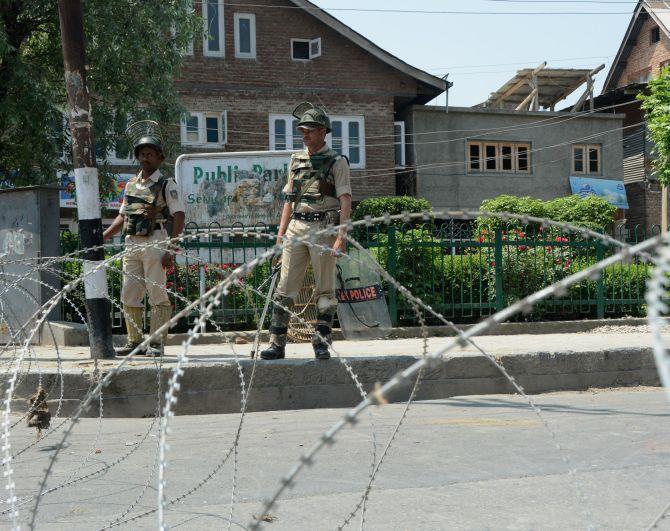 IMAGE:

Security personnel stand on guard at a blocked road during restrictions at Safidafar.

Photograph:

Umar Ganie
Restrictions were imposed in parts of Srinagar early on Saturday to foil a separatist rally coinciding with the death anniversary of two slain separatist leaders, Mirwaiz Moulvi Mohammad and Abdul Gani Lone.
While Mirwaiz Moulvi Mohammad Farooq, father of moderate All Parties Hurriyat Conference chairman, Mirwaiz Moulvi Umar Farooq was shot at and killed in his Nageen residence this day in 1990, Abdul Gani Lone was killed by unidentified gunmen during a rally in Eidgah grounds on May 21, 2002.
"Restrictions have been imposed in areas falling under M R Gunj, Khanyar, Nowhatta, Rainawari, Safakadal, Nageen police stations in old city and in uptown Maisuma," a senior police officer said.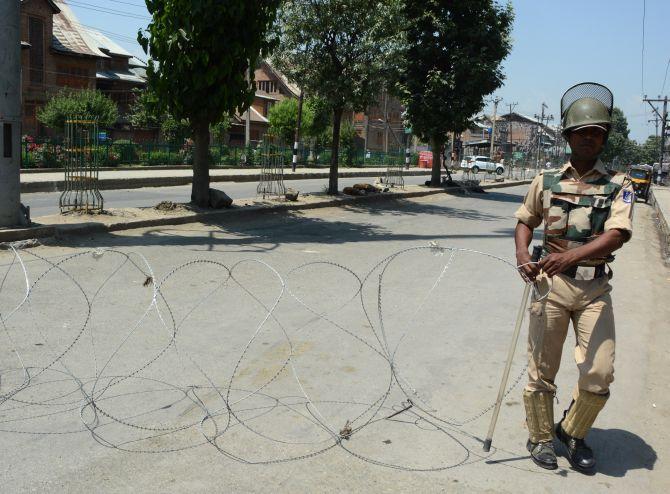 IMAGE: A guard puts up a barb-wire barricade in Eidgah. Photograph: Umar Ganie
Saturday's rally at the Eidgah had been called by the moderate APHC. Authorities have placed Mirwaiz Moulvi Umar Farooq who was to lead the rally under house arrest.
Mirwaiz led a rally of his supporters in old city after the Friday prayers on Friday.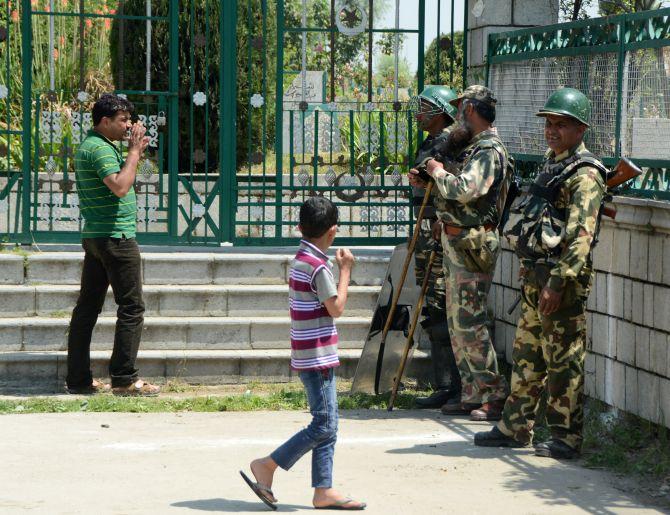 IMAGE: Security stops a youth from entering a martyrs graveyard during restrictions at Eidgah

.

Photograph: Umar Ganie
Early on Saturday morning authorities moved police and paramilitary as well as central reserve police force troops in full riot gear to enforce the restrictions.
The state government had disallowed the rally last year as well.