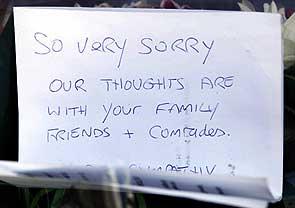 A second man has been charged with the murder of British soldier Lee Rigby in south-east London.
Michael Adebolajo, 28, of Romford, Essex, was charged with the attempted murder of two police officers and possession of a firearm. He has been remanded in custody to appear in Westminster Magistrates Court on Monday.
Michael Adebowale, 22, has already been charged with the soldier's murder and appeared in court on Thursday.
Adebowale, of Greenwich, south-east London, was remanded in custody and is due to appear at the Old Bailey, London, on Monday.
He was hospitalised for six days after the police shot him and then arrested him.
Adebolajo, who was also shot and arrested at the scene, was charged after spending nine days in hospital and taken into custody at a south London police station.
Both Adebowale and Adebolajo were filmed and photographed by witnesses following the attack, which took place on a busy street during the afternoon.
On Wednesday, a post-mortem examination found Drummer Rigby, from Middleton, Greater Manchester, died of "multiple incised wounds" after the attack.
The total number of arrests made in connection with the attack stands at 12.
So far, eight of those arrested have been granted bail and two released without charge.
On Friday, Drummer Rigby's family appealed for calm in the wake of reports of a rise in anti-Muslim incidents following the killing.
In a statement, they said the soldier would not have wanted his death used to excuse reprisal attacks, and called for people to "show their respect in a peaceful manner".