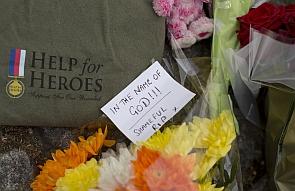 A mother of two is being hailed for her bravery after it emerged she attempted to talk down the two Islamic extremists who killed a British soldier in a gruesome machete attack on the streets of London.
Ingrid Loyau-Kennett, 48, was one of the first people on the scene after the two terrorists on Wednesday butchered the soldier near army barracks in Woolwich, southeast London.
Loyau-Kennett, a cub scout leader trained in first aid, put her own life on the line to try and persuade the murderers to hand over their weapons, when one of them told her, "We want to start a war in London tonight."
"I started to talk to him and I started to notice more weapons and the guy behind him with more weapons as well. By then, people had started to gather around. So I thought OK, I should keep him talking to me before he noticed everything around him," Loyau-Kennett told the Daily Telegraph.

"He said 'I killed him because he killed Muslims and I am fed up with people killing Muslims in Afghanistan they have nothing to do there," she added.
The man killed in the attack has been confirmed as a soldier in the British army from the Woolwich barracks and is expected to be officially named later on Thursday. His family has been informed.
Shortly after the first terrorist murder on British mainland since the July 7 suicide bombings of 2005, one man -- his hands covered in blood -- was filmed by a passer-by saying he carried out the attack because British soldiers killed Muslims every day.
Eyewitnesses say the victim was hacked to death by two men shouting "Allahu Akbar" (God is Great) and one of them proclaimed, "An eye for an eye and a tooth for a tooth."
The incident took place at Artillery Place, off John Wilson Street, at 14:20 (local time) and two suspects were shot by police at the scene and are under arrest in hospital.
Around 250 supporters of the extreme right-wing English Defence League gathered in Woolwich and clashed with police just hours after the incident.
British Prime Minister David Cameron is to chair a Cobra emergency response committee later as counter-terrorism police investigate the attack. He cut short his visit to Paris yesterday to fly back to London to chair the meeting, which will be attended by politicians, the United Kingdom's most senior police officer and the new head of MI5.
Cameron said Britain has faced "these sort of attacks", adding, "We will never buckle in the face of them. People across Britain, people in every community, I believe, will utterly condemn this attack."
Security has been increased at barracks across London and armed forces personnel based in London and elsewhere have been told to be more vigilant. Meanwhile, two men have been arrested after separate attacks on mosques.
A 43-year-old was held in custody on Wednesday night suspected of attempted arson after reportedly walking into a mosque holding a knife in Braintree, Essex. Another man was arrested in Gillingham on suspicion of racially aggravated criminal damage.

Image: Floral tributes, and a T-shirt, are seen outside the Royal Military Barracks, near the scene where the soldier was killed in Woolwich, southeast London | Photograph: Neil Hall/Reuters