During his college days, Hardeep Puri was a student leader who was active in the JP movement.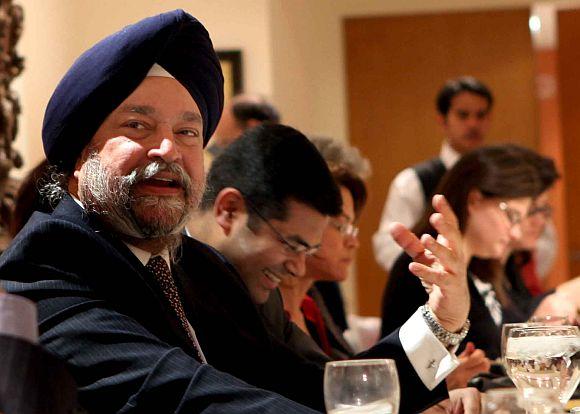 Retired diplomat Hardeep Singh Puri, who was inducted into the Union council of ministers, has a distinguished four-decade career in diplomacy spanning the multilateral arena behind him.
The 65 year old, who took oath as a minister of state, has served as India's ambassador to the UN in New York and Geneva, and with his decades of diplomatic experience, his presence in the council of ministers would be a rarity.
Puri said he will "do his best" to fulfil the responsibility assigned to him. "I am deeply grateful to the prime minister for having included me as a member of his team and whichever portfolio is assigned, I will do my very best," he told reporters after taking oath.
Puri appreciated the government's foreign policy, saying "diplomacy is going well and the challenges are being dealt well by the ministers under the guidance of the prime minister."
To a query over Modi inducting people with proven administrative abilities in his new team, Puri said "If you see, they are not only bureaucrats but they also come with experience in their respective fields...it will prove to be good."
Along with Puri, former Union home secretary R K Singh, former Mumbai police commissioner Satyapal Singh and former IAS officer Kannanthanam J Alphons were inducted in the council of ministers.
Puri has had an over 40-year innings in diplomacy covering the multilateral arena, including as India's permanent representative to the United Nations both in Geneva (2002 to 2005) and in New York (2009 to 2013).
He is one of the few Indians to preside over the United Nations Security Council and the only one to have chaired its counter-terrorism committee.
A 1974 batch Indian Foreign Service officer, Puri most recently served as vice president at the International Peace Institute and as secretary general of the Independent Commission on Multilateralism in New York.
He was also India's envoy to Brazil and the United Kingdom.
An alumnus of the Hindu College in Delhi University who also taught briefly at St Stephen's College, he is the author of the book Perilous Interventions: The Security Council & The Politics of Chaos, published last year.
During his college days, Puri was a student leader who was also active in the JP movement.
Earlier this year, he was appointed chairman of the Research and Information System for Developing Country, a New Delhi-based autonomous think-tank that works under the ministry of external affairs.
RIS specialises in policy research on international economic issues and development cooperation, besides focussing on promoting South-South cooperation and assisting developing countries in multilateral negotiations in various fora.
IMAGE: Ambassador Hardeep Puri, then India's permanent representaive to the United Nations, in New York. Photograph: Paresh Gandhi