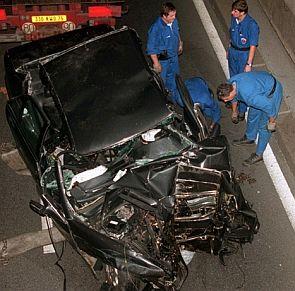 The Scotland Yard is examining the "relevance and credibility" of new information, allegedly that the British military was involved, in the deaths of Princess Diana, her boyfriend Dodi Al Fayed and driver in a car crash in Paris in 1997.
Scotland Yard did not elaborate on the information, or its source, but Sky News reported that it had come from the former parents-in-law of a former British soldier and had been passed on by the Royal Military police.

However, The Metropolitan Police said in a statement on Saturday that it was "not a re-investigation" into the deaths of the couple, who were killed in a car crash in Paris on August 31, 1997 along with their driver, Henri Paul.
The police said it is "scoping" the details and "assessing relevance and credibility" of the information.
The assessment would be carried out by officers from the Specialist Crime and Operations Command, the police said.
The assessment did not come under Operation Paget, the police inquiry which investigated allegations that Diana and Dodi were murdered, a theory endorsed by Dodi's father Mohamed Al Fayed.
In December 2006, the Operation Paget report said it had found no evidence that the couple were murdered.

Princess Diana, the former wife of the Prince of Wales and the mother of Princes William and Harry, was 36 when she died alongside Al-Fayed, 42.
Paul was driving when their hired Mercedes crashed into a pillar in Paris's Pont de l'Alma tunnel.
The crash happened after the couple had left the Ritz Hotel and were pursued by paparazzi on motorbikes. Al-Fayed's bodyguard, Trevor Rees-Jones, was the only survivor.
At the inquest into their deaths, the jury found the couple had been unlawfully killed and the deaths were the result of "gross negligence" on the part of Paul and the paparazzi.
The paparazzi pursuit, Paul's drink-driving and a lack of seat belts contributed to the deaths, the jury said.
The inquest lasted more than three months and heard from 250 witnesses.
Responding to reports of the new information, a spokesman for Al Fayed said he would be "interested in seeing the outcome" and trusted the Met would investigate "with vigour", the BBC reported.

Diana married Charles in 1981 but their marriage fell apart soon after the births of the two princes -- Princes William and Harry. They separated in 1992 and divorced in 1996.