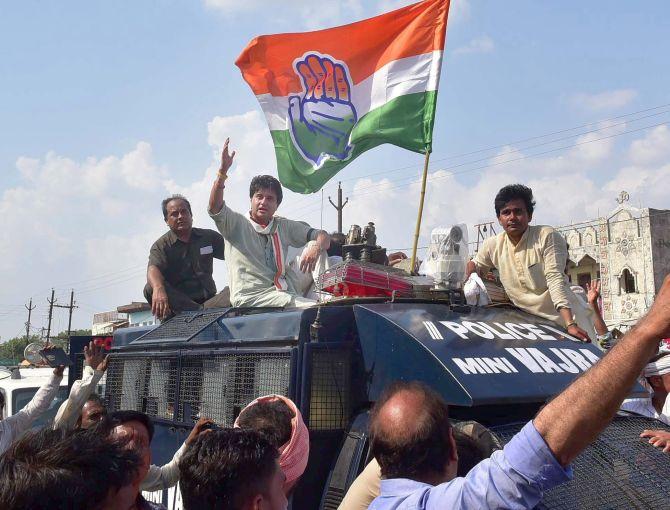 Jyotiraditya Scindia of the Congress and Gujarat's Patel quota stir spearhead Hardik Patel were on Tuesday turned back by the police before they could enter Mandsaur, the hub of the recent farmers' agitation.
Three farmers, meanwhile, were reported to have ended their lives, allegedly due to indebtedness, in the last 24 hours, including one in Chief Minister Shivraj Singh Chouhan's home district Sehore.
As politicians continued to make a beeline for Mandsaur, dramatic scenes unfolded at Nayagaon-Jaora toll booth in Ratlam where Scindia, his party colleague Kantilal Bhuria and a large number of their supporters were detained. They were proceeding to neighbouring Mandsaur where prohibitory orders barring assembly of more than four people are still in force.
Scindia, the suave and sophisticated face of the Congress party, was seen seated atop the anti-riot 'Vajra' vehicle, clenching his fist and chanting slogans like "Bharat Mata Ki Jai" and "Jai Jawan, Jai Kisan". For some time, a large Congress flag fluttered atop the vehicle, with the lawmaker from Guna Lok Sabha seat frantically waving it.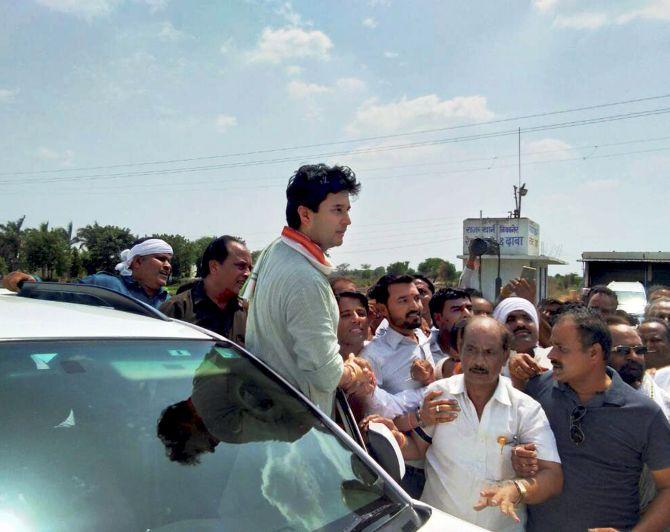 A convoy of vehicles followed the Vajra van as hundreds of Congress supporters ran to keep pace with the automobiles.
"All rules are being torn to shreds. Dictatorship and Nazism (Hitlershahi) prevails in Madhya Pradesh," he told the media amid cries of 'Jai Jawan, Jai Kisan' by agitated
Congress supporters.
When told by a police officer that prohibitory orders were in place in Mandsaur, Scindia said he was prepared to go there alone. "Why are you not allowing me to go there alone?" he angrily asked the officer, before being detained.
Earlier in the day, Hardik Patel was arrested from Nayagaon in Neemuch.
The Patidar quota agitation leader, heading to Mandsaur to meet the kin of five farmers killed in police firing on June 6, was accompanied by Janata Dal-United leader Akhilesh Katiyar, who was also placed under arrest.
Patel was arrested to prevent "commission of cognisable offences", City Superintendent of Police Abhishek Diwan said. They were released on bail later and taken out of Madhya Pradesh in police vehicles.
Lashing out at the authorities, Patel said, "I am not a terrorist. I have not come from Lahore. I am an Indian citizen and have the right to go anywhere in the country."
Patel, who has been trying to carve out a political space for himself in Gujarat, also criticised the Narendra Modi government and claimed 50 crore farmers have come together against the Bharatiya Janata Party.
Before Scindia and Patel, several opposition leaders including Congress vice president Rahul Gandhi, were denied permission to visit Mandsaur, the epicentre of a violent farmers agitation, where five cultivators were killed in police firing, causing the stir to spill over to some other districts of the state.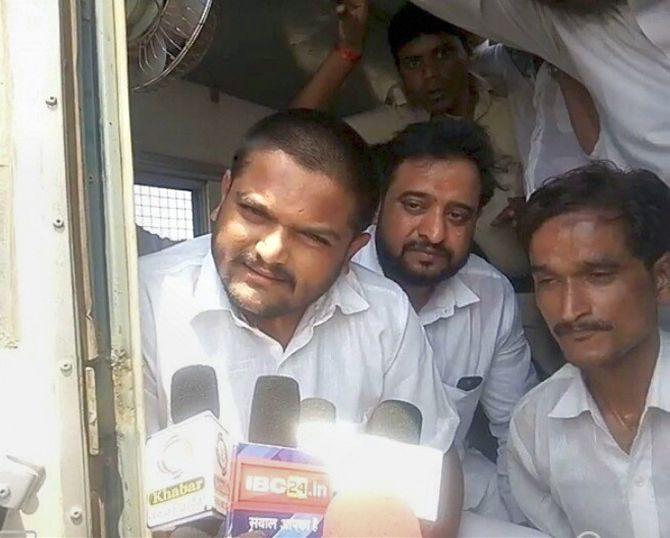 Political leaders and social activists have continued to make futile attempts to visit Mandsaur despite peace having returned there.
Chief Minister Shivraj Singh Chouhan, who came under severe attack from the opposition following the agrarian unrest, had called off the indefinite fast on Sunday, 28 hours after its launch, claiming peace had been restored.
Though the stir has ebbed away, three farmers have ended their lives in the state in the last 24 hours, taking the number of farmer suicides in the state in the past one week to
five.
While two allegedly debt-ridden farmers committed suicide in Sehore and Hoshangabad district, another such death was reported from Vidisha.
In a related development, Congress MLA Shakuntala Khatik was booked for allegedly inciting people to set ablaze a police station, amid violent protests by farmers last week.
A video, which went viral, purportedly showed Khatik inciting people to set a police station ablaze.
The video was shot on June 8 when Khatik, who represents Karera assembly segment in Shivpuri district, was holding a protest at Karera Police Station against the killing of farmers in Mandsaur.
Karera's Sub-Divisional Officer of Police Anurag Sujania said the FIR was registered against Khatik, block Congress president Venus Goyal and others early on Tuesday.
They were booked under the IPC sections pertaining to rioting, unlawful assembly, punishment for obscene acts or words in public and assault or criminal force to deter a
public servant from discharging his duty, he said.
Photographs: PTI Photos