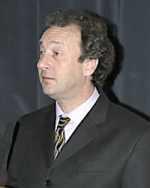 Professor Keith Campbell, one of the scientists who helped clone Dolly the sheep, has died at the age of 58.
Campbell, who died last Friday had led the scientific research into the creation of Dolly, the first mammal to be cloned from an adult cell, at the University of Edinburgh's Roslin Institute in 1996.
Ian Wilmut, who led the team and became known as the sheep's creator, was reported to have said that Campbell deserved 66 per cent of the credit for his contribution.
Campbell started working at the institute in 1991 and left in 1999 when he became a professor of the animal development at the University of Nottingham,
Edinburgh Evening News
reported.
A spokesman for the university confirmed his death on Thursday, though he did not specify the cause of death.
Since Dolly, research into animal cloning has developed rapidly. Cattle, sheep, pigs, goats, horses, dogs and cats have all been cloned, as well as laboratory animals such as mice and rats.
Last month, the team involved in creating Dolly was reunited when they appeared on BBC Radio 4's 'Reunion' show.
Ian, Campbell, Bill Ritchie, Marjorie Ritchie and John Bracken, who is said to have named Dolly after popular country singer Dolly Parton, all took part.
Dolly started her life in a test tube before the embryo was transferred into a surrogate mother six days later. She was born on July 6, 1996, but the scientific development was not made public until the following year, to allow the results to be prepared.
Dolly went on to successfully produce six lambs, the first being Bonny in 1998. Dolly died in 2003.