The India Fashion Week, which is being held at the National Centre for Performing Arts in Mumbai from July 18-24, was rocked by scandal on July 23. A gown designed by Shantanu and Nikhil Mehra appeared in the Krishna Mehta show.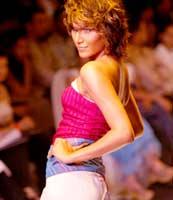 The story, apprarently, goes as follows: Model Carol Gracias bought an outfit from designers Shantanu and Nikhil a few months ago. Gracias says she had worn it during the simultaneous fitting sessions for designers Monisha Jaising and Krishna Mehta. These fitting session took place at the Taj Hotel before the actual fashion show. Once the fitting sessions were over, Gracias could not find her outfit. She thought it must have been mixed up with Mehta's collection, but was unable to contact the designer. Much to her shock, she saw model Tupur Chatterjee wearing her outfit on the ramp in Mehta's show, which took place on July 22.
rediff.com spoke the both the designers.
A stunned Mehta said she was investigating into how the mix-up happened. "It was such a beautiful show. No designer who is going to present so many gowns -- about 200 of them -- is going to present somebody else's gown. It's not possible. We're still looking into how this happened. This happened during the fittings. I was there; a hundred other people were there too. Nobody would like such a thing to happen. We all met -- Shantanu and Nikhil and I. And they have admitted it was a mistake too. It's been traumatic for me. It's horrible for such an incident to happen."
Shantanu and Nikhil too were upset, but seemed to agree the error was inadvertent, "One of our pieces that was sold to [model] Carol Gracias after our show at Spring 2003 got lost during fittings and landed up on the ramp at Krishna Mehta's show. How it landed there we don't know; we're still looking into how and why it happened through the FDCI [Fashion Design Council of India]. But it's been a mistake by Krishna. We all met last night [July 22] and this morning and the basic take has been that there has been an error. We're still trying to find out where exactly we went wrong or she went wrong. This is an incident that has never happened before. I've heard of copying, I've heard of lifting stuff. This incident is very bizarre and has taken everybody by surprise. Krishna, in fact, is totally surprised by it. It just goes to show one has to be bang behind, backstage, to make sure each and every outfit along with its accessories is the right one. You just can't sit in front and watch your show now. I think this matter will end quickly because it seems to be an inadvertent error."

Mehta, who is looking to shift base to Paris, said, her decision resulted from a need to consolidate her operations. "I will have a bigger outlet in South Mumbai. My earlier Napean Sea Road [in Mumbai] boutique will no longer be my base. I have decided to go international. When I am here, my city is my market. When I go to Paris, the world will be my market," she said.
Meanwhile, Vinod Kaul, executive director, Fashion Design Council of India, has said FDCI is looking into the matter. He, however, refused to comment further on the matter until the FDCI investigation was complete.
Have you checked out...
The Dreamcatchers
Tarun Tahiliani backstage
'The Fashion Week official was rude'
What models do to relax
Photo: Jewella C Miranda