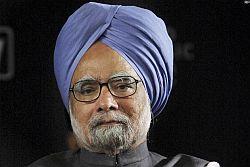 In wake of former Telecom Minister A Raja's accusation that Prime Minister Dr Manmohan Singh was in the loop in the policy decisions taken by his ministry, the Bharatiya Janata Party on Monday demanded the appointment of a Special Investigation Team to investigate all the charges levelled against the Prime Minister's Office in connection with the 2G spectrum scam.
BJP MP Balbir Punj said the charges made by Raja are very very serious.
"He is an accused person in that scam, which amounts to 1,76,000 crores and now that accused person who is being prosecuted and jailed has clearly pointed out that the Prime Minister was not only fully in know of things, but he was a part of the whole decision-making. Now that Raja, the prime accused, has made this allegation, it is imperative that the investigating agencies also look into, inquire, investigate what Raja has said," Punj told mediapersons in New Delhi.
"But it looks impossible that under the present system, any investigating agency can be entrusted to investigate the Prime Minister. So, it is essential to get to the bottom of the entire scam that honourable Supreme Court should suo motto appoint an SIT, which should investigate all the charges, including the one Raja has levelled against the office of the Prime Minister," he added.
Raja has told the Joint Parliamentary Committee that the Prime Minister was in the loop vis-a-vis the policy decisions taken by his ministry.
Responding to a JPC questionnaire dated March 13, Raja in a 17-page note also said that then External Affairs Minister Pranab Mukherjee was also kept informed about the licensing policy.
He said he had written to the Prime Minister on November 2, 2007, on these issues, and also had personal discussions with him later.
Following the meeting with Dr Singh, the DMK leader had discussions with Mukherjee in December 2007 on subscriber base criteria for allotment of additional spectrum and the issues of dual technology and new licences.
Raja also accused Attorney-General Goolam E Vahanvati of telling a ''series of untruths'' about him to the JPC.
Raja, who gave details of the events in the run up to the allocation in January 2008, said Vahanvati, the then Solicitor-General, was also present during these discussions as same issues were the subject of litigation before the Telecom Disputes Settlement and Appellate Tribunal.
Former Telecom Minister Raja was forced to resign from the Union Cabinet after a report of the Comptroller and Auditor General faulted him for undervaluing spectrum to favour companies who were largely ineligible for 2G spectrum, and added that the government had probably lost Rs. 1.76 lakh crore in estimated revenue.