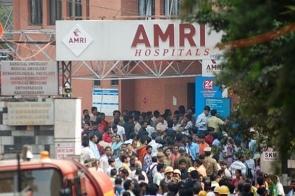 The Supreme Court order asking Kolkata-based Advanced Medicare and Research Institute Hospital to pay Rs 5.96 crore as compensation for medical negligence could wipe out an entire year's profit. With interest, the compensation translates to a little more than Rs 11 crore.
AMRI has two units, of which the one at Dhakuria was gutted by a fire in 2011 that claimed 91 lives and it might have to wait longer to see the light of day again.
The apex court on Thursday had ordered the hospital and three of its doctors to compensate, with interest, a United States-based Indian-origin doctor for medical negligence which led to the death of his wife in 1998.
The compensation, with interest, translates to more than Rs 11 crore.
The hospital, co-founded by industrialists R S Agarwal and R S Goenka, had booked a profit of around Rs 12 crore on a turnover of Rs 187 crore in FY10. Then the fire accident happened and since then, the hospital remains closed.
When contacted, Emami director Aditya Agarwal refused to comment, saying he is not involved in the day-to-day operations and, hence, has no idea about the impact of the payout of the compensation.
Rahul Todi, managing director of Sharachi group, too, refused to comment on the impact of the SC verdict on the company's financials. Emami and Sharachi are co-owners of AMRI.
The buzz around AMRI Dhakuria has been positive in the past few months with chances of reopening of the unit gaining ground. The fire accident had soured the relationship between AMRI promoters and the state government, which arrested six directors of AMRI.
West Bengal Chief Minister Mamata Banerjee had publicly said the government was not in favour of a 'killer' industry.
However, of late, Emami promoters have been seen sharing the dais with West Bengal ministers at public events, signalling improvement of relations. The latest Supreme Court verdict could change all that.
Subrata Majumdar, a Trinamool Congress leader, said, "This s being handled by the chief minister directly. Since the verdict came from the Supreme Court, it may delay things for AMRI."
The apex court verdict could also mean that AMRI may have to wait for a longer period before they can resume operations.
AMRI had major expansion plans of about Rs 2,000 crore, which were put on hold after the fire accident.
The group also had plans to set up seven hospitals across the east and north-east with an investment of nearly Rs 1,750 crore. Plus, it was planning to invest Rs 300 crore to add beds in the existing hospitals.