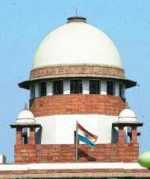 The Supreme Court on Monday decided to examine the constitutional validity of the provision giving the definition of juvenile in the Juvenile Justice Act, which treats a person as a minor till he attains the age of 18 years.

The issue assumes significance in the wake of the brutal gang rape and assault of a 23-year-old in Delhi on December 16 in a moving bus that shook the conscience of the nation. The victim died in a Singapore hospital on December 29. One of the six accused in the case is a juvenile.
Attorney General G E Vahanvati was asked by the apex court to assist on the issue raised in a petition, which seeks to strike down the definition of juvenile from the Juvenile Justice (Care and Protection of Children) Act.
A bench comprising justices K S Radhakrishnan and Dipak Misra decided to hear the matter from April 3, and asked the attorney general to file counter affidavits and relevant reports relating to the issue.
The petition, filed by two advocates -- Kamal Kumar Pandey and Sukumar -- contended that sections 2(k), 10 and 17 of the Juvenile Justice Act, which deals with the issue were irrational and ultra-vires of the Constitution.
The counsel, appearing for the petitioners, submitted that the constitutional validity of the definition of juvenile in the Act is in conflict with the law.
The counsel said that the definition of juvenile under Section 82 and 83 of the Indian Penal Code is a much better classification. Section 82 provides that nothing is an offence, which is done by a child under seven years of age.
Section 83 says nothing is an offence which is done by a child above seven years of age and under twelve and who has not attained the maturity to understand or judge the nature and consequences of his conduct.
"We have to examine the matter," the bench said, adding that "the matter is relating to fixation of age". "It is a question of law," it said.
The attorney general, who was asked to assist the court, said the Justice J S Verma committee report has gone into all the issues and the Centre was going to assist the court.
Vahanvati said that the state governments can also be asked to assist the court and there are NGOs, which are also active on the issue. The bench, however, said, "The states have no role and we are not going to hear the NGOs."