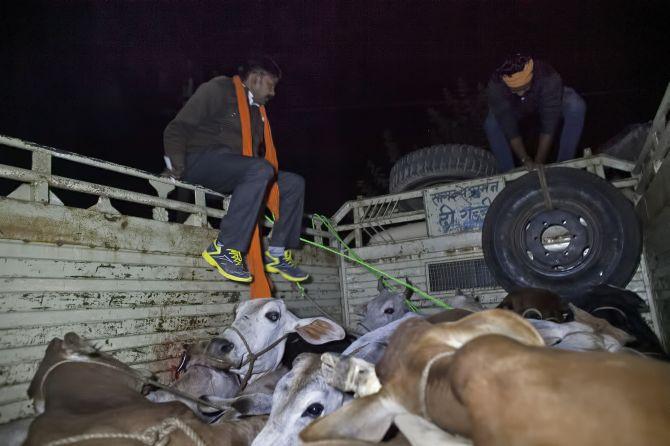 The horrific incident of lynching of a Muslim man at Alwar in Rajasthan for transporting cows on Friday found an echo in the Supreme Court which took note of a plea demanding ban on cow vigilante groups in five Bharatiya Janata Party-ruled states and Karnataka where the Congress is in power.
The apex court issued notice to Rajasthan, Gujarat, Jharkhand, Maharashtra, Uttar Pradesh and Karnataka governments seeking their stands on the allegation that 'ground level' situation in these states was worrisome as such groups were resorting to violence.
With Alwar incident fresh in the mind, a bench comprising Justice Dipak Misra and A M Khanwilkar preferred not to mince a word and decided to wait for the response of these states which since last year have witnessed a spate of such incidents by cow vigilante groups.
The apex court, which in November 2016 had asked the Centre to look into the plea for banning cow vigilante groups, has not received a response as yet with Solicitor General Ranjit Kumar on Friday only stating that notices were not formally issued to these states earlier and the court had asked the Centre to file a response on the plea filed by Congress party activist Tehseen S Poonawalla.
Friday's hearing took place in the backdrop of the issue being raked up in the Rajya Sabha for second successive day with the Congress demanding an apology from Union Minister of State for Parliamentary Affairs Mukhtar Abbas Naqvi for misleading the House with his statement denying lynching of a man in Alwar by such vigilantes.
"Such incidents are happening. The problem is not with the Centre but with the states and at the ground level. Rajasthan is also a party in the case," the advocate, appearing for the Congress activist, told the bench which asked these six states to respond within three weeks.
It has been alleged that cow vigilantes in Rajasthan's Alwar had stopped a truck carrying cows from a cattle fair and thrashed its occupants on April 3 leading to the death of a Muslim man.
Such incidents have been reported in past from Maharashtra when on August 21, 2016, a group allegedly chased two trucks carrying bullocks and tried to intercept them without informing the police.
In Uttar Pradesh, 'gau rakshaks' on August 10, 2016 had allegedly thrashed four persons whom they suspected to be 'cow thieves' near Jiroli village in Aligarh district.
A 29-year-old man from Karnataka's Udupi district was lynched allegedly by a mob of right-wing groups for carrying cattle in a van on August 17, 2016 and on March 27 this year, seven people were arrested for entering and causing violence at a house in Tellar village as they suspected that cattle was being slaughtered there illegally.
The Hindu right-wing groups had allegedly attacked Muslim cattle traders in June 2016 in Jharkhand's Palamu district.
In another incident, two Muslim cattle herders, including a minor boy, were killed and hanged at Jhabar village in the state's Latehar district in March 2016.
In Gujarat, a 25-year-old man was in September 2016 allegedly thrashed by cow vigilantes and died at a hospital in Ahmedabad after a calf he was transporting in his vehicle died when it met with an accident.
A cow vigilante group in Somnath district in July 2016 had stripped and beaten up four persons, asking them from where they had got cow hide.
In Friday's brief hearing, when the bench initially asked these state governments to respond within four weeks, the petitioner's counsel said, "We cannot afford to have further such incidents (like Alwar).
"Please ask them to file their reply within two weeks and in the case of Rajasthan, ask a high-level official like principal secretary or the chief secretary to file it".
The apex court then gave three weeks time to these states to respond to the plea and fixed the matter for May 3.
The Supreme Court had on October 21 last year agreed to examine the plea which sought action against cow vigilantes who were allegedly indulging in violence and committing atrocities against Dalits and minorities.
The Congress activist in his plea has said that violence committed by these 'gau raksha' groups have reached to such proportions that even Prime Minister Narendra Modi had declared them as people who are 'destroying the society'.
The plea has also alleged that such groups were committing atrocities against Dalits and minorities in the name of protection of cows and other bovines and they were required to be 'regulated and banned in the interest of social harmony, public morality and law and order in the country'.
"The menace caused by the so-called cow protection groups is spreading fast to every nook and corner of the country and is creating disharmony among various communities and castes," the petition has said.
The plea has also sought to declare as 'unconstitutional' section 12 of the Gujarat Animal Prevention Act, 1954, Section 13 of Maharashtra Animal Prevention Act, 1976, and Section 15 of Karnataka Prevention of Cow Slaughter and Cattle Preservation Act, 1964, which provide for protection of persons acting in good faith under the Act or rules.
"These laws and the protection granted therewith act as a catalyst in violence perpetrated by these vigilante groups," it said.
Seeking action against the vigilantes, the petition has said that atrocities committed by them were punishable under various provisions of the Indian Penal Code and under the Scheduled Caste and Scheduled Tribes (Prevention of atrocities) Act, 1989.