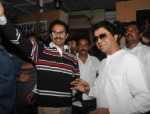 The Supreme Court on Friday sought the Election Commission's reply to a plea for de-recognition of the Shiv Sena and Maharashtra Navnirman Sena as political parties for the alleged hate speeches delivered by their top leaders recently.
A bench of justices R M Lodha and A R Dave issued notice to the Election Commission seeking its stand on petitioner's contention that the hate speeches delivered by MNS chief Raj Thackeray and his cousin and Shiva Sena leader Udhav Thackeray in recent past calls for derecognition of the two parties.
The petition filed by advocate Brijesh Kalapa had mentioned the alleged utterances of MNS chief in October last year against the natives of Bihar and some remarks attributed to Udhav that outsiders in Mumbai are trouble makers.
The PIL has named both of them as respondents but the notice was restricted to the Election Commission.
Kalapa, who argued the matter himself, also referred to the incident of alleged hate speech involving Majlis-e-Ittehadul Muslimeen MLA Akbaruddin Owaisi of Andhra Pradesh.