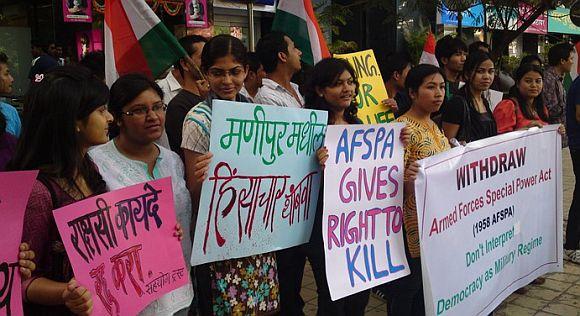 With the government stoutly defending the role of security forces in Jammu and Kashmir and insurgency-hit Manipur, the Supreme Court on Wednesday said it was more concerned about human rights violations happening in the heart of capital cities like Imphal.
"It is not the Line of Control (LoC) but the heart of the cities like Imphal, is what we are concerned. Public order needs to be followed," a bench of Justices M B Lokur and U U Lalit said, after Attorney General Mukul Rohatgi submitted that security forces at LoC or during insurgent operations have to act in a particular way.
Referring to an earlier constitution bench judgment in the Naga People's Movement of Human Rights case, the bench said law in this regard has already been settled, as it has ruled that though an internal disturbance is a cause for concern, it does not threaten the security of the country.
While National Human Rights Commission counsel and senior advocate Gopal Subramaniam contended that there was 'no accountability' in case of human rights violations, Rohatgi said the security personnel have to act 'in a particular way' on the LoC or during an insurgent operation.
"Truth of human rights violations, if any, can be found through criminal trials. It is a serious situation. Security personnel at a Line of Control or during an insurgent operations has to act in a particular way. How else we do it," Rohatgi said.
He said what happened in the 1980s and retrospective enquiry into those incidents will have serious effect on the Army, whether in Manipur or in Jammu and Kashmir.
On the other hand, Subramaniam said, "If there is abrogation of human rights, then accountability has to be fixed on the erring personnel. Here there is no accountability."
The army or security agencies refuse to give any details about cases if there are allegations of human rights violation and asserted that under the Armed Force (Special Powers) Act or any other law, this cannot be done.
"In Manipur, it took three years to get information regarding a case of alleged human rights violation. The NHRC is a responsible fact-finding body. No government can say it is not accountable for violation of human rights," Subramaniam said.
Regarding enquiries into 1,528 cases of alleged extra-judicial killings in Manipur, Rohatgi said over 300 cases were unidentified. While probe will be done in all cases, the truth into alleged human rights violation claims can be found through criminal trials, he said.
Whether it is Jammu and Kashmir or the Northeast, the alleged human rights violations by Army or paramilitary forces can be looked into by the NHRC which will give its report to the Centre to be tabled in Parliament.
"The Centre is answerable to Parliament and the court on this issue but NHRC recommendations on armed forces cannot be made mandatory," Rohatgi said, adding that if the government decides to accept or not, it has to given reasons for doing so.
To this, Subramaniam said if the NHRC findings are treated as mere recommendations, the Centre will never act against erring armed forces personnel accused of human right violations.
He further said that the NHRC had issued seven distinct guidelines on the procedures to be followed which have been sent to different state governments.
Subramaniam claimed that the NHRC was 'like a defunct body' which gets all the grants and when it moves against human rights violation, the pace of information is slow.
"Around 15 investigators are handling over 5,000 cases. They are hard pressed. Directions should be passed for the commission to be suitably staffed," he said, adding that everything cannot be left to the Central Bureau of Investigation to probe.
Rohatgi said he would deal with the sections of Human Rights Protection Act on the next date of hearing. He sought more time as the bench said there was a need to give a meaning to the expression 'recommendation' as envisaged in the Act.
While Rohatgi was limiting the meaning of recommendation to award of compensation, the bench was of the view that it has to be determined whether the rights body had the power also to recommend prosecution or not.
Rohatgi submitted that it was not mandatory for the government to accept the recommendation by explaining that it can only place the report before Parliament for acceptance or rejection.
On July 8, the apex court had said the situation in Manipur has 'never been one of war' and ordered a thorough probe into alleged fake encounter killings there, saying the use of 'excessive or retaliatory force' by the armed forces was not permissible in 'disturbed areas' under the AFSPA.
The court had said 'the public order situation in Manipur is, at best, an internal disturbance and there is no threat to the security of the country or a part thereof either by war or an external aggression or an armed rebellion'.