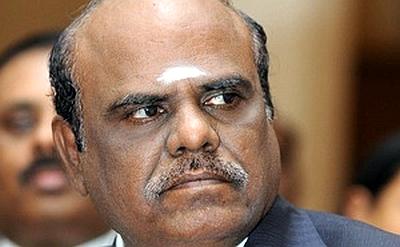 The apex court also forthwith restrained him from undertaking judicial and administrative work.
In an unprecedented order, the Supreme Court on Wednesday asked sitting Calcutta high court judge Justice C S Karnan to appear in person before it and explain as to why contempt proceedings should not be initiated against him.
The apex court also forthwith restrained him from undertaking judicial and administrative work.
"Issue notice to Justice C S Karnan. Returnable on February 13. Shree Justice C S Karnan shall forthwith refrain from handling any judicial or administrative work as may have been assigned to him," a seven-judge bench headed by Chief Justice J S Khehar said.
"He is also directed to return all judicial and administrative files in his possession to the registrar general of the high court immediately," the bench, also comprising Justices Dipak Misra, J Chelameswar, Ranjan Gogoi, M B Lokur, P C Ghose and Kurian Joseph, said.
It said, "Shree Justice C S Karnan shall remain present in person on next date to show cause."
The bench, meanwhile, directed the apex court registry to ensure that the copy of its order be served on Justice Karnan during the course of the day and listed the suo motu contempt petition against him for further hearing on February 13.
At the outset, Attorney General Mukul Rohatgi referred to the nature of public communications allegedly undertaken by Justice Karnan and said they are 'slanderous' and 'disparaging' to the system of administration of justice.
He urged the bench that it can direct chief justice of the high court to restrain the judge concerned from taking up judicial and administrative work.
The AG referred to constitutional provisions and said that the apex court can take judicial note of the matter and is empowered to pass such an order.
"This court has to set an example when it comes to administration of justice," he said, adding, "In exercise of the contempt jurisdiction, the Supreme Court can ask the chief justice of the high court not to assign administrative and judicial work to Justice Karnan."
The court took note of his submissions and said that it has to be established whether Justice Karnan has undertaken the communications.
"We must be as careful as we can," the court said.
"It is the first time we will act against a sitting high court judge and have to be very careful with what we settle as a precedent for times to come," it said.
The apex court has turned the alleged contemptuous letters written by Justice Karnan against the Madras HC chief justice which were addressed to the CJI, the prime minister and others, into contempt proceedings against him.
He was transferred from the Madras HC to the Calcutta HC for his alleged contemptuous conduct. Justice Karnan has also been allowed to argue in person his case relating to his own transfer later this month before another bench of Justices Arun Mishra and Amitava Roy, which last month had allowed Justice Karnan's plea to argue his case in person by accepting his request to discharge his advocate S Gowthaman.
He had written a letter dated December 21, 2016 to the Supreme Court Registry seeking permission for the same.
Earlier, the registrar general of the Madras high court had stated that 12 files of the high court were still with Justice Karnan and these were required to be returned.
It was also submitted that the government accommodation which had been allotted to Justice Karnan at Chennai, had not been vacated, adding that it was needed as 14 new judges have been appointed and a judge cannot keep it for more than a month after he ceases to be a judge of Tamil Nadu high court.
Justice Karnan had on February 15, 2016 stayed his transfer order after the apex court asked the chief justice of Madras high court not to assign any judicial work to him.
The same day the apex court had suspended Justice Karnan's order and made it clear that all administrative and judicial orders passed by him after the issuance of the proposal of his transfer from the Madras high court to the Calcutta high court shall remain stayed till further orders.
However, a week later, the judge had said that he had issued an 'erroneous' order due to his 'mental frustration resulting in the loss of his mental balance'.
The apex court had passed the directions on an application moved by the registrar of the Madras high court, seeking an order to restrain Justice Karnan from doing any judicial work.