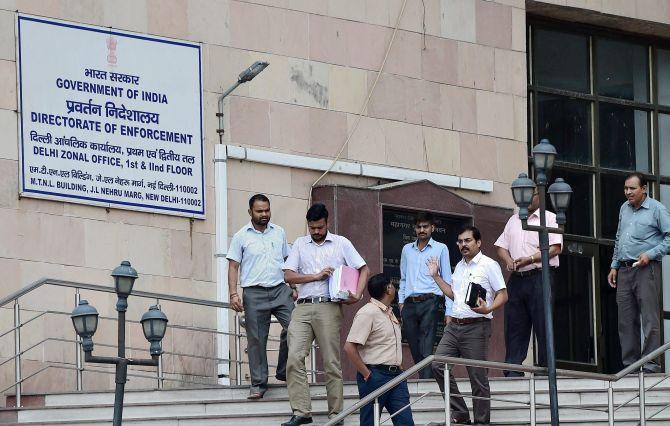 The Supreme Court on Wednesday restrained the centre from taking any immediate action against Enforcement Directorate official Rajeshwar Singh, probing the multi-crore rupees Aircel-Maxis case and the 2G spectrum scam, following some complaints lodged against him.
The court's direction came after Singh alleged conspiracy over filing of "frivolous anonymous complaints" against him with the revenue secretary saying these were being entertained by the ED.
He said such complaints were filed after the recent attachment of property worth Rs 1.16 crore of the accused in the Aircel-Maxis case.
Though the name of the accused in Aircel-Maxis deal case was not taken by Singh's counsel, but on September 23, the ED had reportedly attached assets worth Rs 1.16 crore of Karti Chidambaram, son of former finance minister P Chidambaram, and a firm allegedly linked to him in connection with its money laundering probe in connection with the deal.
A bench of Justices J Chelameswar and S Abdul Nazeer issued notices to the CBI, the ED and the department of telecom and sought their responses in three weeks.
"No action should be taken against the petitioner (Rajeshwar Singh) till the pendency of his plea," it ruled.
The bench observed that in this country, several complaints are filed against people holding public office and it will be difficult to work if such complaints are entertained.
"Suppose in a case, someone comes after 20 years and makes a complaint against a person holding public office, will it be entertained? It will become difficult to work if such complaints are entertained," it said.
At the outset, advocate Gopal Sankaranarayanan, appearing for Singh, said the court should direct a CBI probe into the alleged conspiracy of filing of complaints or for relieving him from the investigation of the 2G scam case.
He said earlier too, several attempts were made to interfere with the 2G scam investigation but the court had always protected him.
"Two attempts were made since the last apex court order in 2014 which protected him from any such complaints filed by the accused in the 2G case in complicit with the government", he said.
Sankaranarayanan said Singh was an Uttar Pradesh cadre police official on deputation in Enforcement Directorate and his promotion in the service was due, which could be hampered due to such complaints.
"After properties worth Rs 1.16 crore of an accused in Aircel-Maxis deal case were attached on September 23, some anonymous frivolous complaints were filed against me with revenue secretary of ministry of finance and these have been entertained," he said.
BJP leader Subramanian Swamy, who was present in the court to support Singh's plea, said he was an intervenor in the Aircel-Maxis case and knows Singh as an honest officer.
"As far as I know, Singh is an honest officer and my experience is that politicians in high offices are targetting him," he said.
Advocate Prashant Bhushan, appearing for NGO CPIL which has filed the main petition in the apex court on which investigations were ordered in the 2G scam case, said he does not oppose the petition of Singh.
The apex court had in 2013 entertained a plea of Singh seeking contempt action against Sahara chief Subrata Roy and two scribes, who were working with his news channel, alleging they had threatened and blackmailed him and interfered with the investigation of the 2G spectrum case.
On May 6, 2011, the apex court had said prima facie it was of the view that an attempt was made to interfere with the investigation conducted by Singh in 2G spectrum scam case and related matters.