To save a four-month-old foetus they killed my 31-year-old daughter. Such laws are really unfair, says the Savita Halappanavar's grieving mother. Vicky Nanjappa reports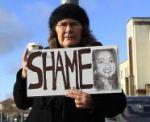 The loss of their loved one is irreplaceable, but Savita Halappanavar's family has decided to fight for justice. They are demanding that Ireland's abortion laws be modified so that no one else has to face a similar situation.
Indians in Ireland as well as several organisations have decided to start a campaign on the issue. "Many people have told me to lead this campaign so that the laws are amended. My intention now is to ensure that no other woman undergoes this pain," says Praveen Halappanavar, Savita's husband.
Savita passed away at University Hospital Galway in Ireland on October 28 after the doctors refused to perform an abortion saying the procedure was illegal.
The heartbroken parents Andaneppa and Mahadevi Yalagi never expected that fate would have this in store for them. The parents, who are recovering from the shock, say that the abortion laws in Ireland should be amended.
"Only if they had heeded to the request, my daughter would have survived," says Andaneppa Yalagi, adding, "My daughter's liver and kidney were damaged due to bad care at the hospital." Her mother, Mahadevi, says that for three days before Savita's death, her daughter had requested the hospital authorities to terminate the pregnancy. "She told the doctors about her decision only after she was told that she was miscarrying. But she was told that the foetal heartbeat was still present and hence terminating the pregnancy would be illegal as per the laws in Ireland. I do agree that there are rules and they ought to be followed, but what is the use of a rule when there is no humanity in it. I feel that rules should have some bit of humanity. What is the use of such a rule when a person loses his or her life," says the grieving.
Savita's parents and husband are not contemplating any legal action, but would push for an amendment of the laws. Praveen, who is in India, said that he was assured of a thorough investigation by the Ireland government. "I would like to state that no one from the Indian embassy tried to contact me. I have lost my wife, but would like to continue the fight for justice. I will return to Galway and continue the fight. The Indian government should wake up and prevail upon the Irish government to make changes to their law," says Praveen.
There is a pall of gloom at the victim's house. Savita, a dentist by profession, married Praveen an engineer who hails from Haveri in North Karnataka on April 19, 2008. Two months after her marriage she moved to Galway and joined her husband who was working with Boston Scientific.
Savita's parents were overjoyed when Praveen and Savita informed them that she was expecting. The couple had in fact prayed for a girl. On October 21, three months into her pregnancy, Savita was admitted to hospital after she complained of severe backache. She was, however, not informed that she was miscarrying. All through the doctors had maintained that there was no problem. However, when she was taken to the ICU, the family was informed that she was miscarrying. This is when the family made a desperate plea to save the mother by terminating the pregnancy.
Praveen says that the attitude of the Indian embassy in Ireland was baffling. "I had contacted them, but they never came on the pretext that Monday was a holiday," he said. The parents say that grave injustice has been done, but such a fate should not befall any other woman or their parents.
"How is this even fair? In a bid to save a four-month-old foetus they killed my 31-year-old daughter. Such laws are really unfair. How many more cases should there be before they decide to change the laws. They say it is a Catholic country and hence abortion is illegal. We are Hindus. What has happened, we have lost our daughter," says Savita's mother.
The incident has started a major debate over abortion laws in the country. The constitution of Ireland officially bans abortion despite a court ruling to legalise abortion depending on the situation. However, the government has refused to amend the law.
Many women, in order to bypass the law, travel to England to get an abortion. However, that is not always possible.