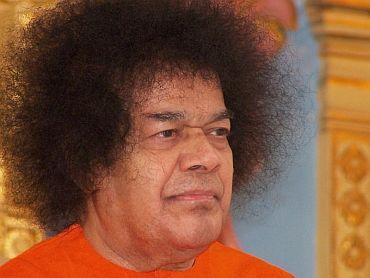 Sri Sathya Saibaba, who was admitted to hospital following chest and lung congestion on March 28, is breathing more easily now but continues to be on ventilator support, doctors treating him said.

"Bhagwan Sri Sathya Sai Baba, who has been in the hospital for the last five days, is responding to treatment given to him quite satisfactorily. He is still on assisted ventilation to help his respiratory system and is breathing more easily now," a health bulletin issued by A N Safaya, Director of Sri Sathya Sai Institute of Higher Medical Sciences, said.

"He had a hemodialysis on Sunday morning. The panel of specialists are monitoring all his vital functions including his kidneys and are satisfied with his response to treatment," the bulletin, second during

the day, said.

The earlier bulletin stated that Sathya Saibaba was on ventilator support for assisting respiration.

Meanwhile, a team of Andhra Pradesh government doctors, who visited Sathya Saibaba on Sunday, said his condition is stable.

"It has stabilised. Stabilising means he is responding, blood pressure is in normal range, pulse rate is normal," Raviraj , a top government health official, said.

"A team of specialists deputed by the government of Andhra Pradesh also went through the processes of treatment rendered to him and had a detailed and fruitful discussion with the panel of specialists treating Bhagwan Baba," the bulletin said.

85-year-old Sathya Saibaba was admitted to the super speciality hospital at Prashantigram at Puttaparty near Anantapur in Andhra Pradesh following respiration-related problems.