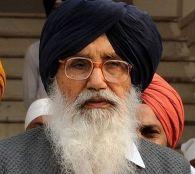 Describing Sarabjit Singh as a "national martyr", Punjab Chief Minister Parkash Singh Badal on Thursday said that the Indian death row prisoner, who died in Pakistan, will be given a state funeral.
Sarabjit's death was an "entirely avoidable tragedy", Badal said while strongly condemning the "inhuman treatment and brutal murder" of the prisoner right under the nose of the Pakistani authorities. Expressing shock and grief over his death in a Lahore hospital after battling for his life for nearly a week, Badal said that Sarabjit is a "national martyr who suffered unspeakable repression and torture with dignity." He will be given a state funeral, the chief minister told reporters. Badal said that the Punjab government will provide government jobs to Sarabjit's two daughters. "We will also stand by the family for whatever help they need."
A special chartered plane is scheduled to bring Sarabjit's body to Amritsar from Lahore, the chief minister said, adding that the mortal remains along with his family members will be flown by a chopper to their village, Bikhiwind, for the last rites.
The government will move a resolution in the Punjab Assembly to condole the death of Sarabjit, he said. Coming down heavily on the handling of the case by the central government, Badal said, "This is gross diplomatic failure and a sign of weakness on the part of Union government. Nations are run with a degree of strength of will, which is so missing in this government. "We have this very sad feeling that the government of India failed to articulate the national sentiment on Sarabjit and did not even take the necessary diplomatic initiative at a level where it was called for."
Sarabjit died of cardiac arrest in a Lahore hospital in the wee hours of Thursday after being comatose following a brutal assault by fellow inmates in a high-security Pakistani jail on Friday last.