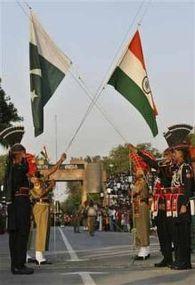 The family of Indian prisoner Sarabjit Singh, who is in coma after being brutally attacked in a Lahore jail, on Sunday crossed over to Pakistan through the border here to see him and appealed to the authorities there to allow him to come to India for treatment.
Sarabjit's wife Sukhpreet Kaur, daughters Poonam and Swapandeep and sister Dalbir, crossed over through the Attari-Wagah border at around 1305 hours.
Dalbir Kaur told reporters at the border that the family was carrying the best wishes of millions of Indians with them and hoped their prayers will be answered and Sarabjit will get well soon.
"I want to thank all the Indians who are praying for Sarabjit. That is why we have succeeded in getting the visa. I appeal to the Pakistan government to please allow him to come India for treatment. I am going with this hope that he will happily come back home," she said.
Poonam and Swapandeep said they were hopeful of their 49-year-old father's early recovery.
"Millions of Indians are praying for our father. We had been trying for a visa for quite some time to meet him, but we did not know that we will have to travel to meet him in such circumstances," Swapandeep said hoping that he would recover very soon and be back in India.
Sarabjit is admitted in a hospital at Lahore following a brutal attack on him in the Kot Lakhpat Jail on Friday.
The prisoner's family, hailing from Bhikiwind village in this district, offered obeisance at the sanctum sanctorum in the GoldenTemple.
Looking tense but hopeful, the family members were carrying bottles of holy water from the GoldenTemple.
Dalbir said, "The family demands that Sarbjit should be shifted to one of India's best hospitals for treatment and this matter should be discussed on priority by the Indian government with the Pakistan government keeping in view the prevailing sensitive condition of Sarabjit".
Dalbir said she has been granted 15 days visa along with her family members to visit her critically injured brother.
Sarabjit is admitted in the intensive care unit of the state-run JinnahHospital in Lahore after being brutally beaten up by at least six other prisoners in his barrack at the Kot Lakhpat Jail.
Sarabjit was convicted for alleged involvement in a string of bomb attacks in Pakistan's Punjab province that killed 14 people in 1990. His mercy petitions were rejected by the courts and former president Pervez Musharraf.
The outgoing Pakistan Peoples Party-led government had put off Sarabjit's execution for an indefinite period in 2008.
Sarabjit's family says he is the victim of mistaken identity and had inadvertently strayed across the border in an inebriated state.
Exerting pressure on Pak to extend best medicare for Sarabjit: Tewari
All efforts are being made to exert pressure on Pakistan to ensure best medical treatment for Sarabjit Singh, Union Minister Manish Tewari said.
"All of us are extremely concerned about the condition of Sarabjit," Tewari told reporters, rejecting criticism of opposition parties that the attack on Singh in a Pakistani jail is a reflection of failure of India's foreign policy.
Tewari said no civilised world would tolerate such an attack, which was "very saddening".
"The External Affairs Ministry is in touch with Pakistan and all possible efforts are being made to exert pressure on Pakistan to extend best medical treatment to Sarabjit," he said.