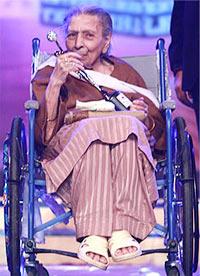 Legendary playback singer Shamshad Begum, who mesmerised music lovers with classics like Kahin pe nigahen kahin pe nishana, Mere Piya Gaye Rangoon, Kabhi aar kabhi paar and Kajra mohabbat wala, died at her Mumbai residence from age-related ailments.

She was 94.

"She was not keeping well for past few months and was in and out of hospital. She passed away last night at our home (Powai in northeast Mumbai). The funeral was a solemn affair with a few friends present," Begum's daughter Usha Ratra said.

The singer had been living with her daughter and son-in-law Yog Ratra in Mumbai ever since her husband Ganpat Lal Batto died in 1955.

"She kept herself away from the glamour industry despite being one of the top singers of her era as she did not like the limelight. My mother used to say that artistes never die. She wanted to be remembered for her songs," Usha added.

Condoling the veteran's demise as an "irreparable loss" to the world of music, Information and Broadcasting minister Manish Tewari said her singing style had set new benchmarks.

"The film industry has lost one of its most versatile singers. Shamshadji's style of singing set new benchmarks. Her melodious voice with powerful lyrics gave us songs that have remained popular even today," Tewari said in his message.

"Her death is an irreparable loss, a void which will be difficult to fill," he added.

Born on April 14, 1919 in Amritsar, Punjab in a traditional family, Begum made her debut on Peshawar Radio in Lahore on December 16, 1947, captivating the hearts of her listeners with her enchanting voice.

A versatile singer, Begum enthralled millions with her songs in Hindi, Bengali, Marathi, Gujarati, Tamil and Punjabi.

She sang for almost all the top composers of her time including Ghulam Haider, Naushad and O P Nayyar.

Her major hits include Boojh mera kya naam re and Leke pehla pehla pyar (CID -1956), Saiyan dil mein aana re (Bahar -1951) and Chod babul ka ghar (Babul -1950) and Kajra mohabbat wala (Kismat -1968).

Singing was a passion for Begum from a very early age but her conservative family did not encourage her at that time. It was her paternal uncle who convinced her father to allow her to sing.

She soon had a contract with record company Xenophone. Her father agreed to let her sing on the condition that she would attend the recordings in a burkha and would not get herself photographed.

Begum continued to honour her father's wishes even after getting married to Ganpat Lal Batto at the age of 15 in 1934.


Photograph: Rediff Archives