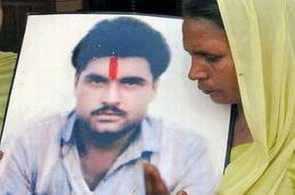 A Pakistani inquiry tribunal probing the murder of Indian national Sarabjit Singh has recorded the statements of 10 witnesses. The one-man inquiry tribunal of Justice Syed Mazahar Ali Akbar Naqvi of the Lahore high court is holding proceedings every day and has recorded the statements of 10 witnesses, said an official statement issued on Tuesday.
The Punjab government formed the tribunal to ascertain the facts about the death of Sarabjit, a death row prisoner who died after a brutal assault in Kot Lakhpat Jail on April 26. Earlier this month, the tribunal visited Sarabjit's cell in the jail and interviewed prisoners. Justice Naqvi collected Sarabjits complete record from prison officials.
The tribunal has issued notices to Sarabjits family through the foreign ministry to record their statements and produce any evidence they had regarding the incident. It will also interview the two prisoners arrested for attacking Sarabjit, jail officials and witnesses before finalising its report. Five to six prisoners had brutally assaulted Sarabjit in a coordinated attack.
After being comatose for nearly a week, Singh died at JinnahHospital in Lahore on May 2. Police registered a murder case against two death row prisoners Amer Aftab and Mudassar for allegedly assaulting Sarabjit. Both men told police that they wanted to kill Sarabjit as he was involved in killing Pakistanis in bomb blasts.