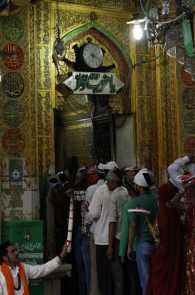 The proposed visit of a Pakistani delegation to Ajmer for the 801st Urs of Khwaja Moinuddin Chisti has become mired in controversy with local activists raising strong objection to it in the wake of Indian prisoner Sarabjit Singh's death.
Some Khadims, priests, rightwing outfits and shopkeepers have protested against the delegation's visit, which is tentatively to arrive in Ajmer on May 15, and demanded it should be cancelled.
Natik Chisti, a Khadim who usually performs Ziyarat for Pakistan officials said, the proposed visit should be cancelled in view of Indian sentiments and present situation.
"I performed Ziyarat for Pak officials who were part of the delegation last year, but this year the situation is different and I will distance myself from it," he said.
"The visit should be avoided by Pakistan because it may cause trouble. Lakhs of people remain in and around the Dargah during the Urs and if the Pakistani delegation is allowed, it will be a negative decision," he warned.
"The protests are mainly due to what happened in Pakistan with Sarabjit and with Indian solders at the LoC. No one has any objection over the visit of a common man from Pakistan, but it should not be an official visit," he clarified.
A requisition for deployment of the Central Reserve Police Force has been forwarded to the government during the Urs this year in view of possible threat to the delegates, SP Ajmer Gaurav Goyal said.
"Local activists are opposing the proposed visit of the Pakistani delegation to the Urs in Ajmer. We are monitoring the situation," Additional DGP (Intelligence) Dalpat Singh Dinkar told PTI today.
Approximately 500 delegates are scheduled to reach Ajmer by train on May 15, but the final programme is yet to come from the ministry of external affairs, he said.
BJP MLA Vasudev Devnani has warned district administration and police of the visit and said, the government should cancel it in the larger interest of lakhs of other Zayrins.
Another Khadim, Bilal Chisti, who performed Ziyarat for the then Pakistan prime minisrer Raja Parvez Ashraf in March this year, also suggested that the Government of India should be careful in this matter and the Pakistan givernment should review its decision to send the delegation to India.
Wahid Chisti, secretary of Anjuman, a body of Khaidms, however said, the delegation should not be opposed. "Those who are called by the Khwaja come here, so there is no point in raising objection over any visit," he said.
On the other hand, spiritual head of the Dargah, Zainul Abedin Ali Khan said, the Government of India should take a decision in the larger interest of the nation and added that he will keep distance from the delegation if it arrives.
The delegation from Pakistan comprises officials and other nationals who perform Ziyarat at the mausoleum during the Urs of Sufi Saint Khwaja Moinuddin Chisty, which is starting later this week.