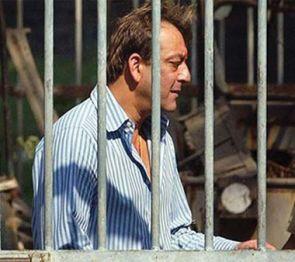 Bollywood actor Sanjay Dutt, serving a five-year sentence at the Yerwada central prison in Pune for illegal possession and destruction of an AK-56 rifle in 1993 serial blasts case, will be released on February 25.
The actor will be released on February 25, 103 days ahead of the official end of his prison term on the grounds of 'good conduct', a senior official said on Monday.
Dutt, who was convicted in the 1993 Mumbai blasts case for possessing illegal weapons and sentenced to five years in jail, had already served 18 months before the verdict was pronounced.
The actor is serving 42 months of his remaining jail term, after the Supreme Court upheld his conviction in 2013.
After being granted a 14-day furlough in December 2014, he was expected to report back to jail on January 7 but sought an extension of furlough from jail authorities. The jail authorities, however, informed Dutt about it being rejected only on January 9.
Dutt was given a clean chit for this delay, after an inquiry into the matter. The home department had served a memo to two officials from the Yerwada central prison for the delay in making a decision.