Bollywood actor Sanjay Dutt on Thursday walked free out of the Yerawada prison in Pune after completing his prison term, putting behind his turbulent past as a convict in the 1993 Mumbai serial bomb blasts case.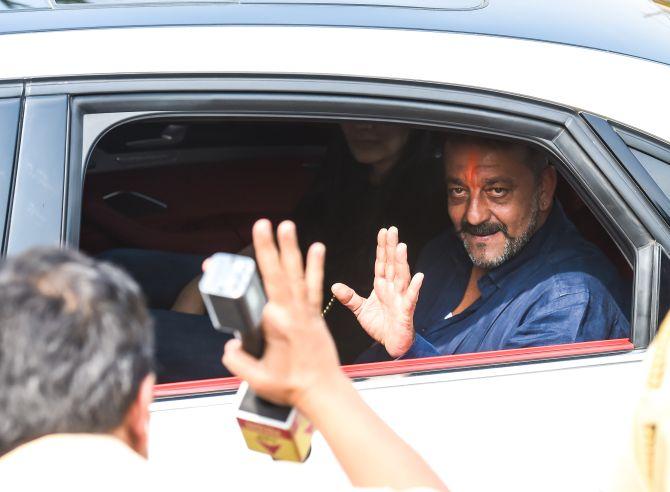 IMAGE: Actor Sanjay Dutt on arrival in Mumbai. Photograph: Pradeep Bandekar
Clad in blue shirt and jeans, a smiling Dutt was escorted out of the imposing jail gates in the morning after completing formalities and got into a car that drove him straight to Lohegaon Airport in Pune to take a chartered flight to Mumbai.
The 56-year-old actor saluted the tricolour fluttering on top of the jail building as he carried a bag containing his belongings and his inmate file with him.
Dutt's wife Maanyata and noted film maker Rajkumar Hirani accompanied him on way to the city airport.
The actor touched the soil outside the prison before his got into the waiting car, juggling a khaki bag and a green coloured file.
There is no easy walk to freedom my friends," Sanjay Dutt told reporters at Pune airport after his release.
Sanjay spent 42 months, a remainder of the his five year sentence in the Yerawada prison. His stay was mired in various controversies relating to his frequent paroles and furlough which the detractors said was granted to him as special favours due to his celebrity status.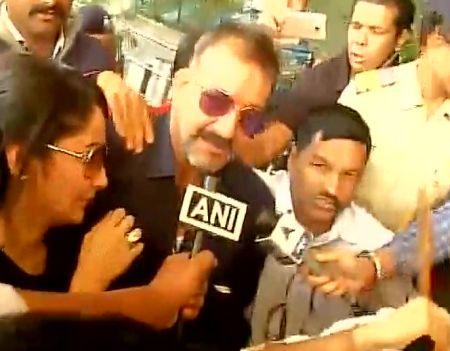 IMAGE: Sanjay Dutt was accompanied by his wife Manyata. Photograph: ANI/ Twitter
Prison authorities and his lawyers, however, refuted the allegations, saying his remission of 144 days and his parole leave was in accordance with jail manual and prescribed rules.
The Bollywood star was arrested on April 19, 1993, for possession and destruction of an AK-56 rifle, which was a part of cache of arms and explosives which landed in India prior to the serial blasts of March 1993.
During the investigation and the marathon trial, he spent 18 months in jail. On July 31, 2007, the TADA court in Mumbai sentenced him to six years' rigorous imprisonment under the Arms Act and imposed a fine of Rs 25,000.
In 2013, the Supreme Court upheld the ruling but reduced the sentence to five years following which he surrendered to serve the rest of his sentence.
According to jail officials, Dutt was given work of making paper bags in his cell.
The actor, embroiled in heated debates over his frequent parole and furlough leave in many quarters, regularly participated in the programmes on internal circuit jail radio, jail sources said.
During his imprisonment, he was granted parole of 90 days in December 2013 and again for 30 days later.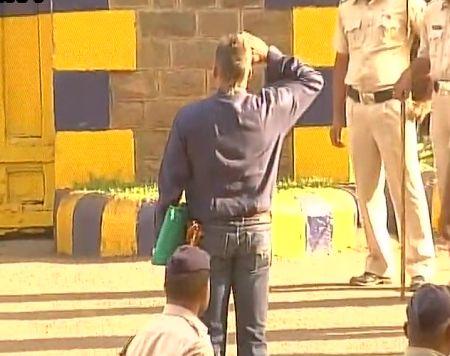 IMAGE: Dutt saluted the prison complex where he spent 42 months of his term. Photograph: ANI/ Twitter
Dutt's family, friends and industry colleagues are all excited to welcome him back home, but before he settles back into daily life, Dutt has a packed day ahead of him.
On his release, the actor will fly to Mumbai, and among his first acts will be to offer prayers in the city's famed Siddhivinayak temple.
After that he will proceed to south Mumbai to pray at his mother, yesteryear star Nargis's grave, before heading home.
Then finally, Dutt will head to his apartment in Imperial Heights and after freshen up, he is expected to come back down and speak to the media about his return.
Meanwhile, the entrance of Dutt's house in suburban Bandra was decorated with garlands to welcome him back.
Also, a photo of his late actor-politician father Sunil Dutt was put up at the gate of his building ImperialHeights along with a message that read – 'Dutt Sahab Amar Rahe (Long live Mr Dutt)'.
Fans too were seen eagerly awaiting Dutt's return. Hoardings like 'Welcome Back Sanju Baba', 'Bandraites Welcome Back Bandra Boy Sanjay Dutt' with a picture of young Dutt with his mother were put up in the area.
Many such hoardings are put up in the lane in which the actor stays.