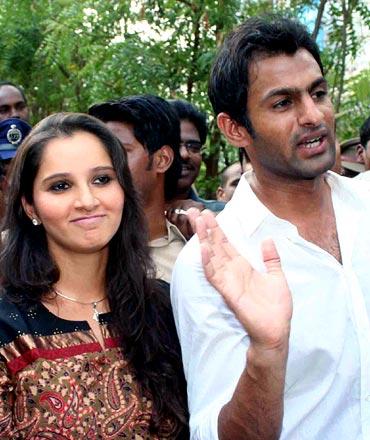 The end of an 'ugly episode' revolving around Indian tennis star Sania Mirza, Pakistani cricketer Shoaib Malik and Hyderabad girl Ayesha Siddiqui is a great relief for the Muslim community, say senior politicians and powerful community leaders of Hyderabad city. Sheela Bhatt reports.
A powerful community leader said, "In this entire episode, no one is victorious; but some credit should go to Shoaib Malik for not revealing the photograph of that unknown Hyderabadi Muslim girl, which was, allegedly, shown to him by Ayesha Siddiqui."
Shoaib had said that when the 'telephonic romance' began some eight years ago between him and 'some Hyderabadi girl,' he was shown a photograph. He fell in love with 'that photograph' which he thought was of Siddiqui.
For many years he was under the impression that he was talking to 'amazingly beautiful Hyderabadi girl' shown in the photograph and he got engaged in 'telephonic nikah,' only to the 'pretty woman' shown in that photograph.
The Hyderabad-based political leader told rediff.com that, "I have seen the girl and she is unbelievably beautiful. She is now happily married and doesn't want to come into the limelight. Don't ask me more questions about her. Leave her alone."
He adds, "One should be thankful to Shoaib that even in such huge crisis, he has not revealed her picture to the media."  
However, all over India, Sania-Shoaib-Ayesha's 'love triangle' has thrown up many questions and lots of confusion.
Since Sania Mirza is an icon, her every step is being discussed in every household across the country.
A senior editor of a Urdu daily says, "Frankly speaking, when Sania announced in front of TV cameras that she is going to marry Shoaib, most of us felt jealous or mayus (dejected) because we thought why could she not find a suitable boy among Indian Muslims? But, when Shoaib's telephonic nikaah came into the focus of the media and reporters started raking muck on our personal laws, we got very upset."
Kamal Farooqui, member of the All India Muslim Personal Law Board, which oversees the implementation of Islamic Sharia laws in the country including marriage and social lives of Muslims, says, "In this story all three characters have not come out clean. We are upset that Sania, who is an icon of our country, could not set an example. Whatever she does or says has an impact on our youth. India has invested lots of emotions in her. Now, she says she will settle in Dubai. How can you be like that? When Shoaib will play a match, will she support India or Shoaib? You may say it's her personal choice, but why drag Islam and other issues in her public affairs?"
Farooqui asked, "If Shoaib wanted an out-of-court settlement of his earlier marriage, as he has supposed to have done now, then why did he not do it before announcing his intention to marry Sania? Why show the institution of Islamic nikaah and our procedures in bad light?"
Farooqui says that, personally, he is against the idea of telephonic marriage because it's necessary to see your life partner and understand him before agreeing to marry.
Faroorqui says, "We don't understand why should Ayesha protest now? Why did she keep quiet for all these years?"
However among Hyderabad's conservative Muslim families, Shoaib's current stay in Sania's house is nothing less than 'a scandal.'
Muslim community leaders say that they are feeling relieved that 'the episode is finally over because unnecessarily, Indian Islamic practices were coming under attack because of this ugly episode.'
Image: Sania Mirza and Shoaib Malik adressing mediapersons in Hyderabad on Monday