The Bharatiya Janata Party on Monday intensified its attack on the Opposition over Dravida Munnetra Kazhagam leader Udhayanidhi Stalin's remarks on Sanatan Dharma, asking the Congress if the INDIA bloc had met in Mumbai to target the religion and stressed that they should not play with Hindu sentiments.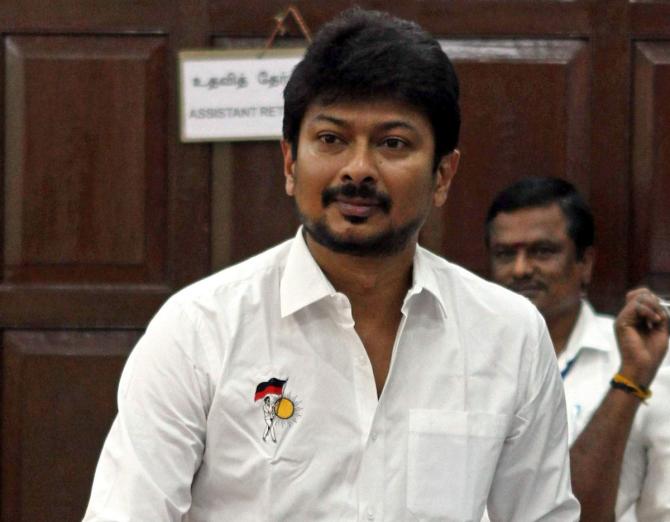 What he has said is shocking and shameful, former Union minister and BJP leader Ravi Shankar Prasad said, noting that the son of Tamil Nadu Chief Minister M K Stalin has repeated his remarks.
He has been ably assisted by Congress MP Karti Chidambaram, whose father and former finance minister P Chidambaram is facing trial in a corruption case, he said.
"Why are opposition leaders like Rahul Gandhi, Mallikarjun Kharge, Nitish Kumar, Mamata Banerjee silent? Are you playing with Hindu sentiments for votes? They should know that hundreds of years of Islamic rule could not exterminate Sanatan Dharma and British imperialism could not dilute it," Prasad told reporters.
British Prime Minister Rishi Sunak is a declared Sanatani, he added.
Law Minister Arjun Ram Meghwal hit out at opposition parties and asked the Congress if the INDIA bloc had met in Mumbai to finalise its agenda against Sanatan Dharma and how to finish it off across the country.
"Is this your 'mohabbat ki dukan' (shop to spread love)," he asked and accused Congress leader K C Venugopal of spewing venom against the religion.
Another Union minister Prahlad Patel alleged that the attack on Sanatan Dharma was part of the conspiracy decided on during the opposition parties' meeting in Mumbai.
The silence of those who get themselves photographed in temples, be it Rahul Gandhi or Arvind Kejriwal, is telling, he said.
In his address at a meeting of Tamil Nadu Progressive Writers and Artists Association in Chennai on Saturday, state Youth welfare minister Udhayanidhi Stalin alleged that 'Sanatan Dharma' is against equality and social justice, and that it should be eradicated.
Likening Sanatan Dharma to coronavirus, malaria and fever caused by dengue virus and mosquitoes, Udhayanidhi said such things should not be opposed but destroyed.
Defence Minister Rajnath Singh on Monday hit out at the opposition over DMK leader Udhayanidhi's comments on Sanatan Dharma, asking why Congress leaders Sonia Gandhi, Rahul Gandhi and Ashok Gehlot are "silent" on the issue.
Addressing a public meeting in Jaisalmer on the launch of the third round of the BJP's Parivartan Yatra in Rajasthan, he also took a jibe at Rahul Gandhi, saying Chandrayaan successfully landed on the south pole of the Moon but "Rahulyaan" could neither be launched nor landed.
On Udhayanidhi Stalin's comments, Singh said, "I want to ask (Rajasthan Chief Minister) Ashok Gehlot why he does not speak, why Sonia Gandhi, Rahul Gandhi, (Congress president Mallikarjun) Kharge do not say what is their thinking on Sanatan Dharma."
The DMK has hurt Sanatan Dharma and Congress leaders are "silent" on the issue, the senior BJP leader said.
INDIA bloc members should apologise for the insult to Sanatan Dharma or the country won't forgive them, the defence minister said.
The DMK leader should be asked for an explanation over his comments, Singh said and added that "Sanatan Dharma considers the world as a family and gives the message of Vasudhaiva Kutumbakam (the world is one family)".
Defence Minister Singh attacked the Congress in Rajasthan, where polls are due later this year, saying the party is trying to gain support in the state by invoking the 'Hindu-Muslim' issue and the 'backward'.
Training his guns at the Rajasthan chief minister, he said Gehlot is sitting in the driver's seat but someone else is pressing the clutch and someone else the accelerator.