Bollywood's 'bhaijaan' is out on bail after the Bombay high court suspended his five-year sentence in the 2002 hit-and-run case.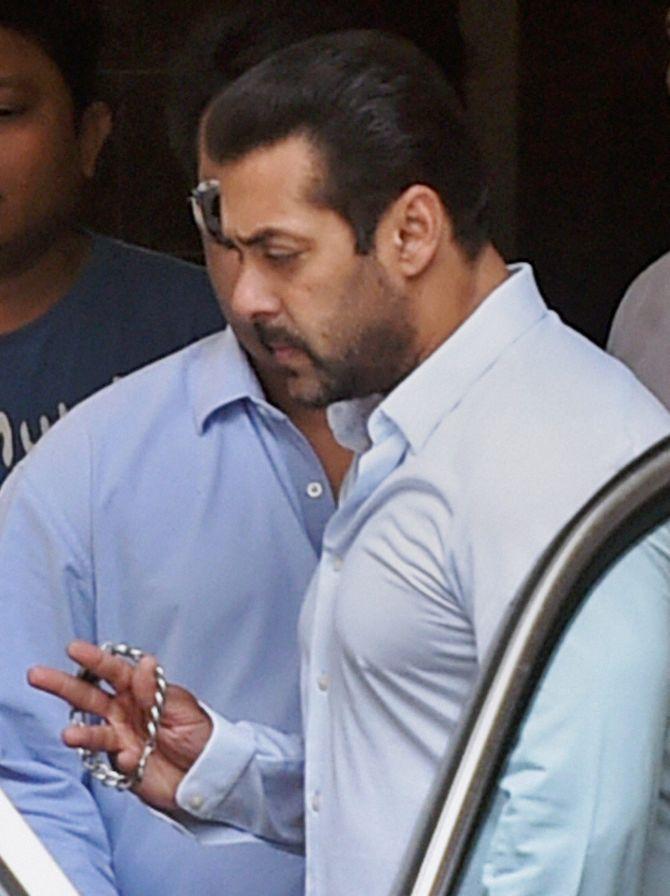 Bollywood actor Salman Khan leaves for court from his residence in Mumbai on Friday. Photograph:
Shashank Parade/PTI photo

Bollywood superstar Salman Khan will not have to go to jail pending disposal of his appeal against conviction in the 2002 hit-and-run case after the Bombay high court suspended his sentence and granted him bail.
"This is not a case where I should keep him (Khan) in jail till his appeal is heard and decided. Why his right should suffer when his appeal is admitted and kept pending?
"In many cases people have suffered and spent their entire prison term only to be acquitted later by the high court," Justice Abhay Thipsay observed, before staying execution of the five-year jail sentence awarded to Khan by the trial court on Wednesday and ordering that he be enlarged on bail.
Justice Thipsay had granted interim bail to 49-year-old Khan, hours after his conviction and sentencing by sessions court judge D W Deshpande on the ground that the actor had not been supplied with a detailed and reasoned order. The tenure of the 48-hour interim relief was to end on Friday.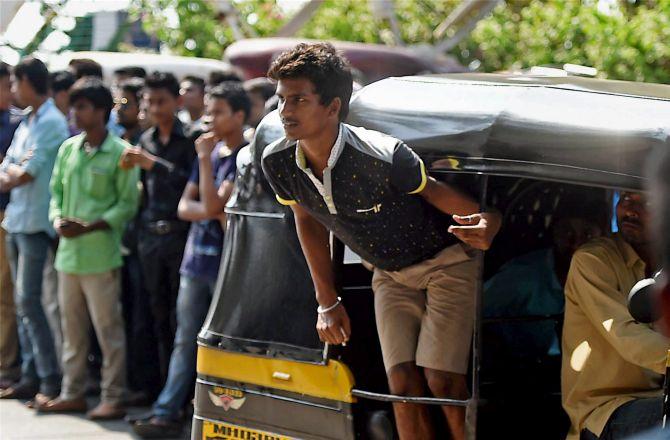 An eager fan waits outside Salman Khan's Bandra residence. Photograph: Shashank Parade/PTI photo

A man was killed and four others were wounded when Khan's Toyota Land Cruiser ran over them while they were asleep on a pavement outside a bakery in suburban Bandra on September 28, 2002.
"The normal rule is that when an appeal is admitted and the sentence is under seven years, it (the sentence) is suspended. Why do you (prosecution) want to depart from this norm?" Justice Thipsay said, rejecting prosecution's contentions against the suspension of sentence.
Since the term of the interim bail was to expire on Friday evening, the judge asked Khan to surrender before the trial court, execute a fresh bond of Rs 30,000 and furnish a surety of the like amount for obtaining regular bail.
Anywhere between Rs 200 crore and Rs 250 crore was said to be riding on the popular actor and the court's order would come as a huge relief to the jittery Hindi film world, which kept its fingers crossed since Wednesday's judgement of the trial court.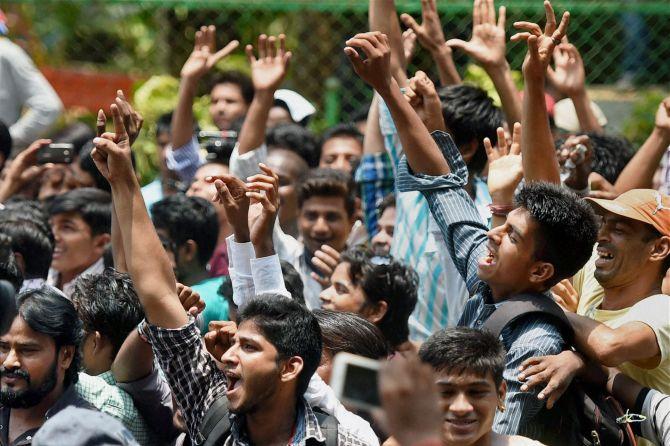 Fans celebrate outside as Salman Khan's sentence is suspended. Photograph: Shashank Parade/PTI photo

Hundreds of Khan's anxious fans had collected outside the high court and the actor's Bandra residence since early morning and the mood was sullen.
Police contingents in riot gear deployed in both places had a tough time regulating the crowds that waited with bated breath for a 'positive' outcome on Khan's appeal in the high court.
As the word came out that the high court had stayed the sentence pending disposal of Khan's appeal, exultant fans burst firecrackers, broke into a wild jig, hopped, jumped and carried each other on shoulders, throwing traffic into disarray for a while. Sweets were kept ready for celebrations in the event of his prayer for bail being granted.
Khan, who was at his Galaxy Apartments residence in suburban Bandra, soon stepped out to loud cheers from delirious fans. As the superstar, dressed in blue jeans, white shirt and sporting sunglasses, left for the sessions court in his Mercedes SUV at the head of a convoy of vehicles, jubilant supporters were seen sprinting in pursuit.
The crowds that had parked themselves outside the star's residence left only after he gestured them to return to their homes. He folded his hands in gratitude and waved at them for a brief while before retreating from the balcony. His father, scriptwriter Salim Khan, mother Salma, brother Arbaaz and sister Arpita also made a brief appearance on the balcony with him.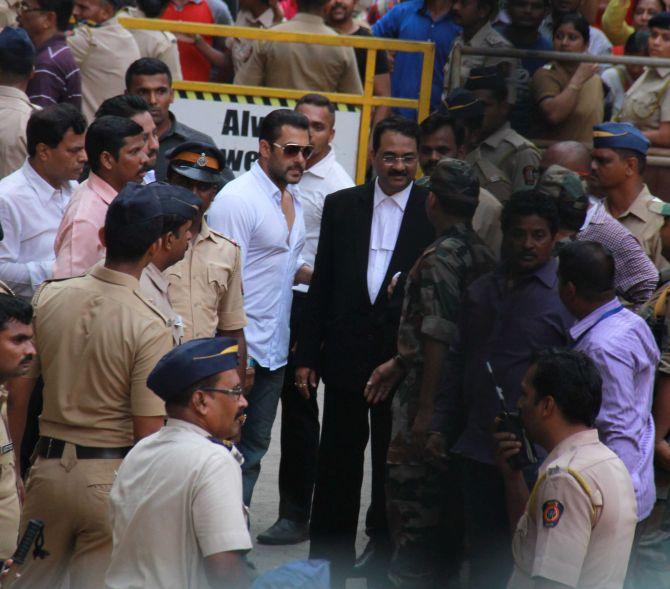 At the sessions court the actor furnished a bond of Rs 30,000. Photograph: Sahil Salvi

While ordering Khan to be enlarged on bail, Justice Thipsay said he would expedite the hearing on his appeal and posted the matter for June 15. He noted that Khan has been on bail throughout the trial even after being slapped with the serious charge of culpable homicide not amounting to murder. He had earlier been tried by a Metropolitan Magistrate on the lesser charge of rash and negligent driving causing death. "There are a number of arguable points raised about whether or not Khan was driving the car. It is also nobody's case that Khan will abscond if he released on bail, pending appeal," Justice Thipsay said.
While setting out the bail conditions, the judge said Khan will have to obtain the permission of the court before travelling abroad. Khan's passport is with the Bandra police station and he hitherto he used to seek police's permission before going abroad.
During the arguments on admission of Khan's appeal, defence counsels Amit Desai and Shrikant Shivade said the trial court had failed to appreciate the fact that four prosecution witnesses, including the investigating officer, had maintained there were four persons present in the Toyota Land Cruiser when the accident took place and that it was the family driver Ashok Singh who was at the wheel.
Prosecutor Sandeep Shinde, while insisting on denial of bail to the actor, countered the defence's argument, saying it was only at the fag end of the trial that Salman Khan had made a statement under section 313 of CrPC in which he claimed it was Singh who was driving the SUV.
The actor has challenged the findings of the trial court that he was drunk and was driving under the influence of liquor.
Salman has also pleaded that the trial court had wrongly convicted him under the culpable homicide charge because he had no knowledge that he would meet with an accident.
Sessions judge D W Deshpande had on May 6 held Khan guilty of "all charges" levelled against him by the prosecution. "All charges have been proved against you...What you have to say? The judge asked Salman who was in the dock."
"I hold that you were driving the vehicle. You were intoxicated. I also do not agree with your plea that the person who had died had received fatal injuries after a crane dropped the car on the persons underneath while removing it," the judge had said.
He was apparently referring to the defence's claims that Singh was driving the vehicle at the time of the accident and that the victims had received injuries after a crane called to lift the SUV had failed to haul it up in one go and dropped it on them.
Apart from being convicted of culpable homicide, Khan was also found guilty of offences under section 279 Indian Penal Code (rash and negligent driving) and sections 337 and 338 IPC (causing hurt by acts endangering life or personal property of others), which prescribes six months jail.
Besides, he was sentenced to undergo jail for six months under sections 181 (driving without licence) and 185 of Motor Vehicles Act (drink driving). Salman was found guilty under the Bombay Prohibition Act under section 66 (a) and (b) for which he received two months imprisonment and fine of Rs 500. All sentences will run concurrently.

Reacting to the high court order, the wife of Noorullah Shaikh, the lone person to have been killed in the accident, said she has no complaint against it but insisted that the family should be given help.

"The order is right. The accident has already happened, whatever should have not happened has already happened and the person once gone will never come back. We haven't got justice. Nobody is coming to us, they should help us. I had to work in homes to feed my children and raise them," she said. Her son said, "I think the verdict is fine. Now that Salman has got bail he is happy. He should then do something to eradicate our poverty."

Bollywood celebrities like Rishi Kapoor, Sajid Khan and Rohit Roy welcomed the Bombay high court's decision to suspend Khan's sentence and grant him bail.
Industry veteran Rishi Kapoor, back on Twitter after a very short absence due to the online trolls, said, "Back. Welcome reprieve for Salman. Unprecedented reaction to this news."

Filmmaker Sajid Khan tweeted, "@BeingSalmanKhan bollywood, fans and his critics will all have to agree to this.. Salman Rules Fridays... I am very happy for the Khan family," Sajid Khan said. "Looks like someone up there heard all our prayers," actor Rohit Roy posted.

Actress Ameesha Patel, who visited Salman at his residence yesterday, posted, "So happy to hear the good news that @BeingSalmanKhan has got bail. Prayers of all have been answered."

As Bollywood heaved a sigh of relief, former Mumbai police commissioner and now BJP MP Satyapal Singh struck a discordant note. "I had said even yesterday (Thursday), it is very difficult for the poor to get justice in this country," Singh said, adding, "it is very difficult to punish those who wield influence."