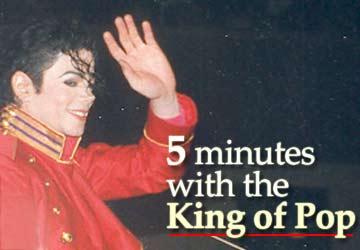 Michael, I love you Michaellllllll.
The scream came, not from a crazed teen but from a toddler hardly reaching over my waist. Nine years on, the kid, a teenager today, may have moved on to other music makers like Evanescence; will she recall -- in the light of all the allegations – how ecstatically she responded to the King of Pop in 1996, when he had come calling on Mumbai?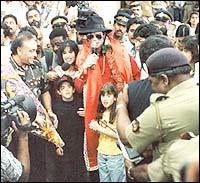 The biggest gig to hit India till date, Michael Jackson's HIStory tour of India was the stuff legends are made of. And for us at the newspaper, it was a ringside view for two reasons. The hotel he was staying in on a trip that politicians would qualify as a whistle-stop one, was just across the road. And, the newspaper I was in at that time was the media sponsor, which meant access to the superstar and his team.
Which was the reason I was at the lobby of the hotel on October 31, when I should have been in the newsroom. For I had been assured of what was every journalist's dream, an INTERVIEW with the man himself! That was the one concession I could wrangle out of the marketing team when they said we were the media sponsors.
There was little they could wrangle out of us, though. Despite being involved with the concert, no eyebrows were raised when the newspaper published reports regularly highlighting what seemed to be the state government stretching many a legal point in the concert's favour. An unheard-of scenario today in most newspapers where it is the marketing czars who decide on the news of the day.
With one day to go for the concert, the Boss finally came across and said, yaar, for just one day why don't you say some good things about the concert, after all we have put money in it…
And what better thing than an interview with the man himself just across the road? But there were hassles of time. So I was asked to submit the questions ahead, which was done. Then I was told to be at the lobby at 6.30 pm sharp, and I would be called over to his suite. And so I waited. And waited. And waited…
Thankfully, I was not the only one. There were hordes and hordes of people, socialite-editors, celebrities, the paparazzi, and rubber-neckers, all waiting to catch just a glimpse of MJ as he strode into the elevator. India's own dance whizkid Prabhu Deva was there, too, no doubt hoping to meet his idol. And when Michael Jackson did materialise, an hour or so later, there was a spontaneous burst of applause. Michael, oh Michael, the teenyboppers yelled like their lives depended on it.
And, once again, the long wait in the lobby.
I have no idea how they knew I was there to see the star, or that there was an appointment to see him, but suddenly I was asked to come along by the minders. Bundled into the elevator and taken up, I entered the long corridor that was flanked by men and women in khaki, from the local police. As I was frisked and passed from hand to hand, the routine was the same. Kuttun aala? Kai karto? (Where are you from? What do you do?). And, after repeating oneself, finally the door!
But the King of Pop was still not in sight, this was only the anteroom, filled with his people. I realised I was part of a long chain of people waiting to meet him by prior appointment. So one by one we were passed on from hand to hand, our credentials checked, and then the big moment.
"Hi," said Michael Jackson, dressed as he normally does, in a red, ornamental suit. It was with some shock that I realised he was not much bigger than me, and we are not talking of Atlas here. We shook hands (warmly, I thought), I managed to not let the occasion overwhelm me, and informed his group that I was from the newspaper ("Oh…."), and was there for the interview, questions for which had already been submitted to him. Before I knew it we were facing a photographer, and in the blink of the flash Michael Jackson and I had been cast on film.
Again I was bundled out, from hand to hand, but I decided to put my foot down, being a journalist and all. But what about the interview, I asked. Oh, Michael is busy, he will answer it and mail it to you, don't worry. No, it won't be before the concert, sorry, but afterwards, after he leaves the country. Assuaged, but sceptical (think that goes with one's profession), I stepped out. I had just spent all of five minutes in Michael Jackson's suite!
And as the door closed on me, I remembered something important. And the photograph? That will also be sent to you, don't worry.
Nine years later, I am still waiting for either, or both!
Photographs: Jewella C Miranda shot Michael Jackson on his arrival in Mumbai in November 1996 | Image: Rahil Shaikh