Perhaps never before had so many celebrities converged on the soil of this city of nawabs on a single day.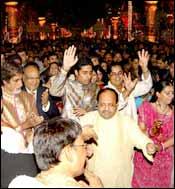 The occasion was the marriage of Sahara group chief Subrata Roy's two sons and the guest list had top politicians, a galaxy of Bollywood stars, leading sportspersons, artists and the who's who of the corporate world.
The marriage of the elder son, Sushanto, was solemnised as per traditional Bengali rites on February 10 with Richa, the daughter of a self-employed former army captain Amesh Ahuja.
Seemanto will marry on February 14.
If it was Prime Minister Atal Bihari Vajpayee gracing the first wedding for more than 90 minutes, unconfirmed reports said that former US president Bill Clinton would be the guest of honour on February 14.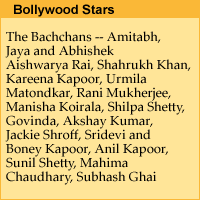 The film fraternity was made up of the Bachchans -- Amitabh, Jaya and Abhishek -- Kareena Kapoor, Urmila Matondkar, Rani Mukherjee, Manisha Koirala, Shilpa Shetty, Govinda, Akshay Kumar, Jackie Shroff, Sridevi and Boney Kapoor, Anil Kapoor, Sunil Shetty, Rakesh Roshan, Mahima Chaudhary, Raj, Nadira and Juhi Babbar, Aishwarya Rai, Shahrukh Khan, Subhash Ghai, Feroz and Fardeen Khan, Ramesh Sippy, Yash Chopra, Shyam Benegal, Nafisa Ali, Udit Narain, Sonu Nigam, Govind Nihalani and many others.
Roy, Aishwarya, Bachchan Sr, cricket legend Kapil Dev, tennis star Leander Paes, Uttar Pradesh Chief Minister Mulayam Singh Yadav, Samajwadi Party leader Amar Singh and Reliance honcho Anil Ambani were among those detailed to play host and receive guests.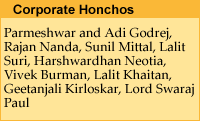 Tabla maestro Ustad Zakir Hussain, sarod exponent Ustad Amjad Ali Khan, classical singer Pandit Jasraj and santoor great Pandit Shiv Kumar Sharma represented the classical music world, while BCCI chief Jagmohan Dalmiya, Bishen Singh Bedi, P K Banerjee and Chuni Goswami made up the sports fraternity.
From the corporate world were Parmeshwar and Adi Godrej, Rajan Nanda, Sunil Mittal, Lalit Suri, Harshwardhan Neotia, Vivek Burman, Lalit Khaitan, Geetanjali Kirloskar and Lord Swaraj Paul. The Tatas and Birlas were conspicuous by their absence.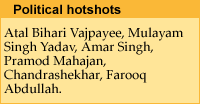 Other well-known people were former prime minister Chandrashekhar, former Jammu and Kashmir chief minister Farooq Abdullah, UP Governor Vishnukant Shastri, BJP leader Kalyan Singh, Karnataka Chief Minister S M Krishna, former Madhya Pradesh CM Digvijay Singh, former Union ministers Sharad Pawar, Vasant Sathe, Suresh Kalmadi, Pramod Mahajan, Shibhu Souren, former governor Romesh Bhandari, Union minister Rajnath Singh and UP BJP president Vinay Katiyar. Congress leader Sonia Gandhi and BSP chief Mayawati stayed away.
Shobhana Bhartiya of The Hindustan Times, Prabhu Chawla of India Today, Ashok Agarwal of Amar Ujala and Pradeep Guha of the Times of India were among those from the media fraternity.

Extremely tight security will be maintained over the next five days as various ceremonies are to continue until February 16. Entries are being regulated with the help of special security chips attached to invitation cards that permit entry only to two persons.
The celebrations began with fireworks by the Moranis, who would repeat the show every evening till February 16.

The flower-bedecked and beautifully lit Sahara Shahar, Roy's private residence which has a helipad, vast expanse of greens and exquisitely laid out gardens, is reminiscent of the royal mediaeval past.
To capture the event on celluloid, Roy has engaged filmmaker Raj Kumar Santoshi.
According to a report from Mumbai, the entire Bollywood has decided to suspend shootings between February 10 and 14.

Almost all suites and rooms in Lucknow's two star hotels -- Taj Residency and Clarks -- have been reserved for the guests. Many VIPs who were flown in by 14 chartered flights, went back later in the night itself, but were expected to be present for the second wedding.
Chef Hemant Oberoi and his team from the Taj Group of Hotels were preparing the vast spread that includes traditional Indian, Mughlai, Chinese, Italian, Mexican, Lebanese, Mongolian dishes. And to add to the splendour were the choicest drinks from across the globe.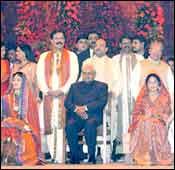 Never before have as many Mercedes Benzes been seen in the city. The group has reportedly acquired at least 100 limousines for various functions. Sahara helicopters were busy making sorties between the Lucknow airport and the Sahara Shahar helipad.
With seven thousand people, including 4,000 Sahara employees deployed to organise and supervise the arrangements, no one knows how much money is being spent. But there is no doubt that the celebrations would put any Maharaja to shame.

Roy has announced that his company would feed as many as 1,40,000 beggars across the country over the weeklong celebrations. Besides, 101 weddings of poor people are also lined up under the auspices of the Sahara group, which has earmarked Rs 100,001 for each of these.