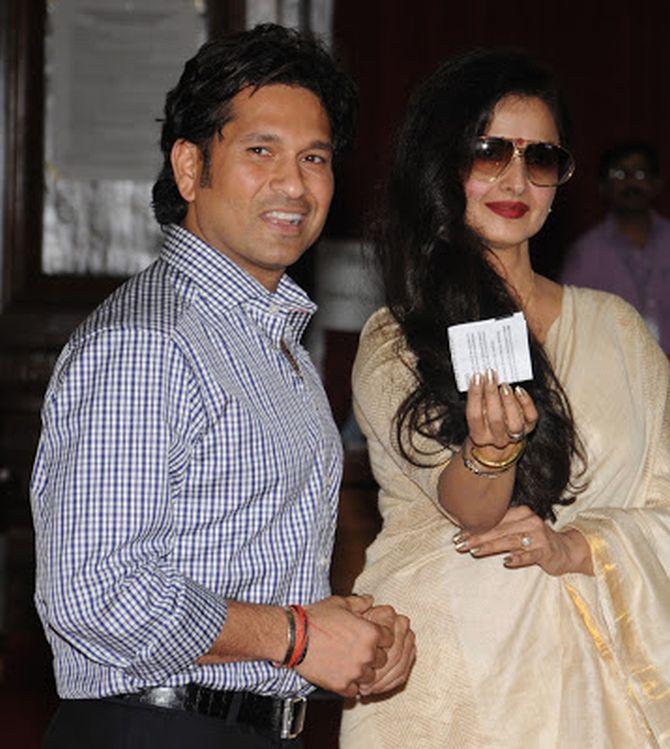 They may have rocked in their individual fields of sports and movies, but when it comes to Sachin Tendulkar and Rekha's performance in the Rajya Sabha, there's nothing to talk about.
Factly, a data journalism portal, analysed the performance of the ten nominated members of the upper house and found out that both Tendulkar and Rekha have less than 6 per cent attendance and have not participated even in a single debate.
In fact, Sachin has an attendance of 5.5 per cent to date, whereas Rekha has a meagre attendance rate of 5.1 per cent. Both of them were nominated to the Rajya Sabha in 2012.
When it comes to attendance, Bhalchandra Mungekar has the highest attendance with 89 per cent followed by Mrinal Miri and K T S Tulsi with 88.5%.
What is more disappointing is the fact that even when Rekha has been present in the Upper House, she has not asked a single question. Sachin scores a bit better in that aspect as he has asked seven questions till date.
As on date, Bhalchandra Mungekar asked the highest number of questions -- 272, followed by Mani Shankar Aiyar --178.
This is not the first time that Rekha and Sachin have been criticised for their poor performance.
In fact, in 2014, Sachin was slammed for attending only three sessions in 2013 and none in 2014. Meanwhile, the actress had attended the parliamentary sitting only seven times.