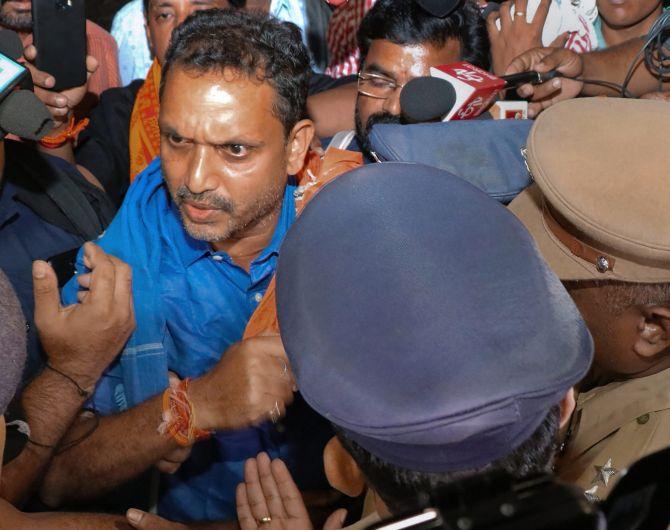 IMAGE: BJP's Kerala state general secretary K Surendran being taken into preventive detention near Sabarimala by the state police when he came to visit the temple on Saturday. Photograph: PTI Photo
Bharatiya Janata Party workers in Kerala blocked highways on Sunday to protest the arrest of party general secretary Surendran, who was taken into custody on Saturday while on his way to the Lord Ayappa shrine.
The protesters, including women, squatted on roads, blocking traffic at various places, including in state capital, Kochi, Thrissur, Palakkad and in front of Kottarakara sub-jail, where Surendran has been lodged, and also the northernmost Kasaragod district.
In all the places, the protesters were seen clapping and chanting 'Swamiyae Ayyappa'.
Addressing workers at Thiruvananthapuram, BJP leader M S Kumar said police had so far not succeeded in bringing even a single young woman to the Lord Ayyappa Temple at Sabarimala after the Supreme Court on September 28 allowed women of all age groups to offer prayers at the shrine.
While the Communist Party of India (Marxist)-led Left Democratic Front government's stand is that they were constitutionally bound to implement the court order, the main opposition Congress has said they are with the believers.
The BJP/Rashtriya Swayamsevak Sangh and right wing outfits have made it clear that they would not allow any woman in the 10-50 age group to offer prayers at the shrine, where the deity is 'Naishtika Brahmachari' (perennial celibate).
The Travancore Devaswom Board, which manages the shrine, will file a petition in the Supreme Court on Monday seeking more time to implement the court's Sept 28 verdict allowing women
of all ages to offer worship at the shrine, board president A Padmakumar said.
So far, no women in the 10-50 age group has sought police protection to trek the holy hills, though over 500 odd young women have made online bookings for darshan.
Facing flak over inadequate facilities and severe restrictions for devotees at the temple complex, Padmakumar also said no unnecessary curbs would be there and the 'small issues' being faced now should be seen as 'starting troubles'.
Briefing reporters at Thiruvananthapuram after a meeting with DGP Loknath Behara and M V Jayarajan, the Private Secretary to Chief Minister Pinarayi Vijayan, he said the devotees would be allowed to perform the 'Neyyabhishekam' ritual from 03.15 am to 12.30 pm daily.
"The police, board or government will not take any step causing hardships to the pilgrims", but police would take action against those coming to Sabarimala with an intention to protest, he said.
More parking facilities and bio-toilets will be provided at Nilackal and Pamba, he said.
Meanwhile, the State Human Rights Commission observed there was gross violation of human rights of the devotees and directed authorities to ensure all necessary basic facilities for them and sought a report within two weeks.
The temple had opened Friday evening for the 64-day annual pilgrimage season as the stand-off continued over entry of menstrual age women into the shrine.
Surendran and two others with him had been taken into preventive custody on Saturday night and brought to the Chittar police station, about 50 km from Sabarimala, after they forcibly tried to leave for the hill shrine at Sabarimala.
Police had cited law and order issues and tense situation at the temple complex to deter him from going to Sabarimala.
However, when they insisted, Surenderan and the others, all with the 'Irrumudikettu' (bundle of offerings for Lord Ayyappa) were taken into preventive custody.
They were then produced before the Thiruvlla magistrate, who remanded them to 14-day judicial custody.
Surendran was later taken to the Kottarakara sub jail.
The BJP protest comes a day after the hartal called by the Hindu Aikya Vedi against the preventive custody of their leader K P Sasikala. She was later granted bail.
When the Ayyappa temple had opened for monthly pujas in October and early this month, it witnessed a string of protests from frenzied devotees against the entry of young women.
A few of them who made a bid to offer prayers, could not come anywhere close to the holy shrine.
A 46-year-old woman, who arrived from nearby Kazhakootam to go to Sabarimala, was turned back from Chengannur Saturday, following protests from devotees.
Meanwhile in Kozhikode, a worker of a right wing Hindu outfit was arrested in connection with the alleged attack on a CPI-M leader's son and his journalist daughter-in law during the shutdown, police said.
Julius Nikithas and wife Saniyo Manomi, working with a leading Malayalam news channel, were attacked at Kuttiady as they were going to a hospital in a car to visit a patient.
Police on Sunday said that a worker of a right wing outfit has been arrested in connection with the attack and a search was on to nab nine others.
Nikithas, son of party district secretary P Mohanan, suffered head injuries and Manomi was also injured.
The couple have been admitted to the government medical college hospital in Kozhikode. The CPI-M had alleged that they were attacked by activists belonging to the Sangh Parivar.
Even as the rest of Kerala witnessed protests, a calm atmosphere at the Lord Ayyappa shrine in Sabarimala marked the second day of the two month-long annual pilgrimage season.
So far, more pilgrims have arrived from other states than from within Kerala.
The pilgrims offered prayers at the Lord Ayyappa shrine early Sunday, the second day of Malayalam month 'Vrischikom'.
Though the devotees were relieved to get more time for 'darshan' due to less crowd, many were unhappy at not being allowed to spend some more time at the sannidhanam -- temple complex.
Some pilgrims also expressed anguish over the fact that it took them over two hours to reach Pamba from Nilackal, which is just 18 km away.
"We reached Nilackal at around 4 AM. But we had to wait till 6 AM to catch a bus to Pamba. Otherwise everything was fine for us. We had a good darshan," Coimbatore resident Palaniswami, who was heading a group of 21 people, told PTI.
However, when PTI contacted the Kerala State Road Transport Corporation (KSRTC) office at Pamba, they dismissed the devotees' claims about delay in service and said many buses were running with vacant seats.
Police have introduced several restrictions this time, Palakkad resident Renish said, adding that 'devotees are treated as criminals by making them undergo strict security procedures'.
"My mother, who is old, had to go through heavy security procedures. They checked our bags and even water bottles as if we are criminals," Renish said.
Inspector General of Police Vijay Sakhare, in charge of the security of the hilltop shrine, had said on Saturday that security was tightened due to the recent incidents of violence.