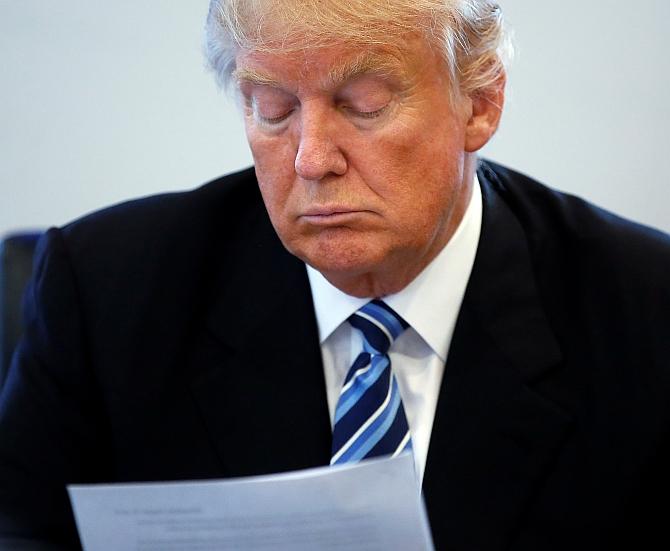 Russia "cultivated" and "supported" Donald Trump for years and has collected compromising information on his personal life and finances, multiple media reports said on Wednesday, even as the US President-elect dismissed the claims as a "political witch hunt".
The allegations were presented to Trump and outgoing President Barack Obama last week by the heads of four premier US intelligence agencies, including Federal Bureau of Investigation and Central Intelligence Agency, and were part of the report on Russian interference in the 2016 election.
Trump, however, replied with a tweet declaring: "Fake news - a total political witch hunt!"
A senior US official with access to the document said that the allegations were presented at least in part to underscore that Russia appeared to have collected embarrassing information on both major candidates but released only material that might harm Democratic nominee Hillary Clinton.
This is a reflection of Russian motivation that bolstered US spy agencies' conclusion that Moscow sought to help Trump win the presidential election, the daily said.
The two-page synopsis further claimed that there was a continuing exchange of information during the campaign between Trump surrogates and intermediaries for the Russian government, a CNN report said.
Popular news website BuzzFeed reported that an "explosive" but "unsubstantiated" dossier, which alleged that Russia has been "cultivating, supporting and assisting" Trump for years and gained compromising information about him, has been circulating among elected officials, intelligence agents, and journalists for weeks.
BuzzFeed also released a copy of the 35-page report.
"The document was prepared for political opponents of Trump by a person who is understood to be a former British intelligence agent," the website said.
Trump's attorney Michael Cohen told Mic Network that the allegations were absolutely false.
"It's so ridiculous on so many levels. Clearly, the person who created this did so from their imagination or did so hoping that the liberal media would run with this fake story for whatever rationale they might have," he said.
The New York Times said the uncorroborated summary says that Russia had salacious information about Trump.
It is based on memos generated by political operatives seeking to derail Trump's candidacy.
Earlier, a declassified intelligence report released on Friday has concluded that Russian President Vladimir Putin ordered an "influence campaign," that included hacking of Democratic party groups, in an effort to help Trump's electoral chances by discrediting Clinton in the 2016 presidential campaign.