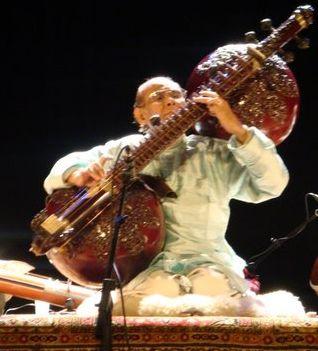 Rudra Veena exponent Ustad Asad Ali Khan, one of the last existing advocate of the Khandarbani dhrupad school, passed away in New Delhi in the wee hours on Tuesday. He was 74.

The classical musician who represents the 12 generation of Jaipur's Beenkar Gharana breathed his last at the All India Institute of Medical Science at around 2:30 am, his adopted son and disciple Ustad Ali Zaki Haidar said.

"I had taken Ustad ji to hospital in the evening for a routine check-up and he was admitted around 7 pm. They conducted routine tests. Around 2 am while he was watching TV in his air-conditioned room, I noticed he was sweating. He passed away a little later," Haidar said.

Ustad Khan who was unmarried is survived by his nephew Haidar whom he had adopted as his own son at a very young age and trained to become his successor, said Pawan Monga, a disciple of the Rudra Veena exponent.

The musician, who received the Padma Bhushan in 2008 underwent training under his father Ustad Sadiq Ali Khan Beenakar. His father, grandfather Ustad Musharraf Ali Khan Beenakar and great-grandfather Ustad Rajab Ali Beenakar were court musicians in the princely state of Alwar where Ustad Asad Ali Khan was born in 1937.

His father later moved to the princely court of Rampur where he undertook to teach him music. For the next 15 years he learnt to play Rudra Veena, practicing 14 hours a day.

Ustad Khan was a artiste of the All India Radio and participated in 'sangeet samelans' and musical performances across the country and the world. He has also performed at concerts in Afghanistan, Australia, Holland, Italy, New Zealand, the United Kingdom, the US and other countries.