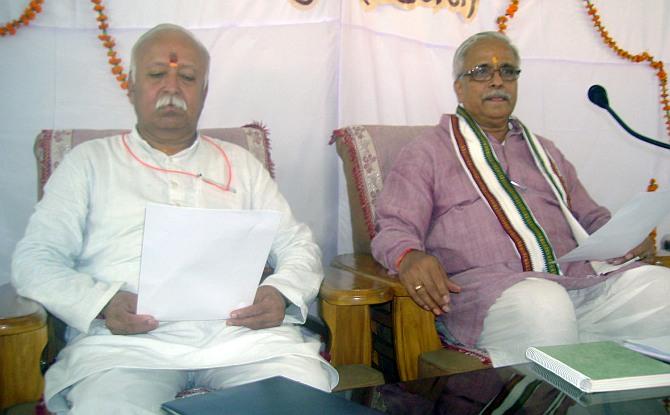 'Any kind of political activity is not on our agenda.'
Sharat Pradhan reports from Lucknow.
After taking credit for bringing the Bharatiya Janata Party to power in the Lok Sabha election and also for playing a key role in the BJP's incredible victory in 73 of Uttar Pradesh's 81 Lok Sabha seats, the Rashtriya Swayamsevak Sangh now denies it mobilised voters for the BJP.
Image: RSS Sarsanghchalak Mohan Bhagwat, left, with senior RSS leader Suresh Bhaiyaji Joshi. Photograph: Sandeep Pal
"It is not correct that we were engaged in mobilising voters for the BJP during the Lok Sabha election," senior RSS leader Suresh Bhaiyaji Joshi told reporters after the Sangh's three-day national conclave in Lucknow. "Our volunteers simply created awareness amongst voters."
"Our volunteers," Joshi added, "did not go around seeking support for any political party, including the BJP, because any kind of political activity is not on our agenda."
The RSS's main objective, Joshi said, was the need for a change and that change had taken place with the BJP winning power.
Did the Ram temple in Ayodhya and love jihad come up during the RSS conclave, Joshi was asked. The Ram temple is always close to RSS hearts, Joshi pointed out, and the Sangh believed the Narendra Modi government would take up the issue very seriously.
"Love jihad has been discussed and debated," Joshi revealed,"because it is a matter concerning the fate of Hindu girls."
And does the RSS plan to include Muslims in its fold? "They are free to join us," Joshi shot back, "but we do not have any special plans to induct those belonging to other faiths."