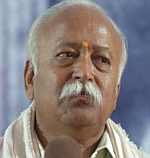 The Rashtriya Swayamsevak Sangh chief Mohan Madhukar Bhagawat on Thursday said that there was no relation between his party and the Bharatiya Janata Party.
"There is a general belief that BJP is of the sangh's. I tell you it is not true. There is no relation between the two, because the sangh is not in politics. If at all the Sangh wanted to be in politics, then why handover the bridle to others," Bhagawat asked.
"Swayamsevaks are in all parties. There are more in BJP, but they are also in the Congress and in a communist party in West Bengal. So the BJP is not the Sangh's," the RSS ideologue said addressing a function and also answering pre-arranged questions through SMSes and emails.
"The fundamentals of the RSS are based on values, morals, service to the nation, adhering to truth and building up a society based on unity, harmony and happiness," he said.
Asked whether the Ram temple would be constructed at Ayodhya, Bhagawat reiterated the RSS's commitment to its construction, but reminded that the case was pending in court.
He also favoured an enactment in the Parliament to pave the way for construction of the temple.
On infiltration by Bangladeshies, Bhagawat blamed it on vote bank politics.
"This can be stopped if bribes are not taken for enrolling Bangladeshis and giving them ration cards and enrolling them in voters list," he said.
On reports of Hindus in Pakistan crossing over to India following alleged persecution there, Bhagawat asked the people to treat them as guests and send them off when conditions became conducive in their country.
Responding to a query put by a few Muslims present in the auditorium why RSS was not popular among them,  Bhagawat welcomed them and invited them to join the RSS.