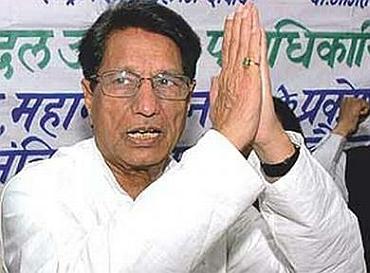 Rashtriya Lok Dal chief Ajit Singh who was sworn into the Union Cabinet on Sunday has been allocated the civil aviation ministry.
On the advise of the Prime Minister Manmohan Singh, President Pratibha Patil allocated civil aviation ministry to Singh, Rashtrapati Bhavan said in a statement.
Earlier, the President administered the oath of office and secrecy to Singh at a ceremony in New Delhi. Singh was inducted into the Union Cabinet in a bid by the Congress to strengthen itself ahead of the Uttar Pradesh elections where it has tied up with his party.
The swearing-in of the 72-year-old Jat leader from western Uttar Pradesh took place a week after his party formally joined the United Progressive Alliance, the first political outfit to do so since the alliance came to power for the second time in May 2009. The expansion of the Council of Ministers by the PM is the third such exercise since the United Progressive Alliance-II came to power.
Singh became the 33rd minister in the Union Cabinet and 77th in the Council of Ministers.
Vice-President Hamid Ansari, Congress President and UPA Chairperson Sonia Gandhi and a number of Union Ministers and party leaders were present when President Pratibha Patil administered the oath of office to Ajit Singh at a brief ceremony in the Ashoka Hall of the Rashtrapati Bhawan.
Congress leader Rahul Gandhi, who played a key role in bringing RLD into the UPA ahead of the Uttar Pradesh elections scheduled in the next few months, was present on the occasion. He was seen sitting along with Jayant Chaudhary, son of Ajit Singh, who is also an MP and represents Mathura.
With RLD joining the ruling coalition, UPA's strength in the Lok Sabha has gone up from 272 to 277. This is the fourth time Ajit Singh has become a Union Minister. Singh was a member of the P V Narasimha Rao-led Congress government. He held the food portfolio then.
The Jat leader, whose RLD has five members in the Lok Sabha, had a meeting with the prime minister last week and also with Congress chief Sonia Gandhi.
Ajit Singh joined government for the first time in the V P Singh cabinet. He was in-charge of the industry portfolio from 1989 to 1990.
The 72-year-old MP from Baghpat in Uttar Pradesh became a cabinet minister for the second time when he was given the food portfolio from February 1995 to May 1996 in the Narasimha Rao government.
Later, Singh became the Agriculture Minister in the Bharatiya Janata Party-led National Democratic Alliance regime from 2001-03.
RLD became the 15th constituent of the UPA. Other major UPA allies include Trinamool Congress, Dravida Munnetra Kazhagam, Nationalist Congress Party, National Conference, Muslim League and Kerala Congress (M).