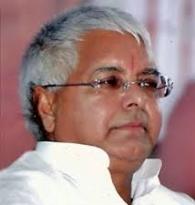 The Rashtriya Janata Dal on Thursday alleged a political conspiracy by the Bharatiya Janata Party and Janata Dal-United behind the sentencing of Lalu
Prasad but ruled out the possibility of a change in party leadership, saying its chief will be out on bail soon.
"Lalu ji has become a victim of a political conspiracy and Bihar Chief Minister Nitish Kumar (of the JDU) and the BJP has an important role in this conspiracy. We will go to people and apprise them of the conspiracy and hobnobbing between the BJP and the JD-U against Lalu ji," party MP Ramkripal Yadav told reporters after a special court in Ranchi sentenced Prasad to five years imprisonment in a 17-year-old fodder scam case.
"Lalu is innocent. He has been punished because he was voicing the concerns of the poor and strengthening secularism. Those who made money are moving outside freely and the person, who lodged the case, got 45 FIRs registered, has been jailed," Yadav, a close aide of Prasad, said.
Senior party leader Raghuvansh Prasad Singh trashed talks about the possibility of a change in RJD's leadership saying it was not required as Prasad will be out on bail.
"Lalu is himself available. What crisis if somebody is absent for five-ten days? Yes he has been sentenced for five years but will he not get bail? We will move an appeal in high court," he said.
"I have given him the Gita. By the time, he reads up half of the scripture, he will be out of jail. If somebody goes somewhere for 10-20 days, should we make another appointment in his place? This is totally impractical," he said.
He also sought to make a difference between Prasad appointing his wife Rabri Devi as chief minister, when he was first sent to jail long back and the situation now.
"There is difference between the headship of the government. At that time, he was the head of the government. The head of government has to be changed, if the incumbent head of the government is going to jail. That is the technical thing. There is no such technical requirement as far as party headship is concerned," Singh said.