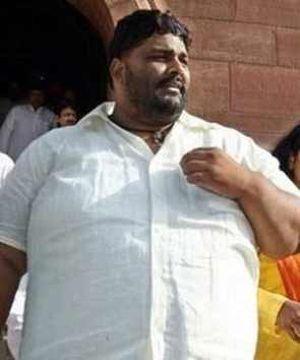 Controversial Rashtriya Janata Dal MP Rajesh Ranjan alias Pappu Yadav on Thursday was expelled from the party for six years over anti-party activities.
RJD state president Ramchandra Purve said that party has expelled Pappu Yadav for his anti-party activities.
"RJD has expelled Pappu Yadav for his anti-party activities," he said.
He said that the party last month served a show-cause notice to him for his "anti-party activities and sought his reply within two weeks."
According to the RJD leaders, Lalu was upset with Pappu Yadav for his repeated statements that were not only against the party but challenged Lalu's politics.
Pappu Yadav said in February for the first time that he will succeed Lalu Prasad as the RJD chief.
Pappu Yadav has already opposed Lalu Prasad's announcement of the likely merger of the six parties of the erstwhile Janata Parivar.
Pappu Yadav was acquitted in 2013 by the Patna high court in the murder of Communist Party of India-Marxist leader Ajit Sarkar in May 1998 due to lack of evidence.
In last few weeks, Pappu Yadav time and again met the former chief minister Jitan Ram Manjhi and appealed to Lalu Prasad and Janata Dal-United leader and Chief Minister Nitish Kumar to sink their "pride and ego" and invite Manjhi to the newly formed Janata Parivar.
Pappu Yadav is MP from Madhepura parliamentary constituency and his wife Ranjit
Ranjan is Congress MP from Supaul in Bihar.
Pappu is a five-time MP. He won thrice from Purnia -- in 1991, 1996 and 1999 and won the Madhepura by-polls in 2004 and in 2014.