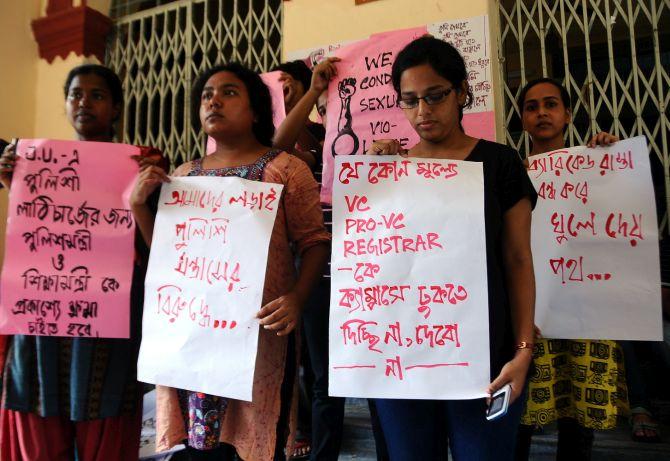 The Jadavpur University authorities on Monday appealed to the students to maintain normalcy and resume classes, but the students remained adamant on boycott of classes reiterating their demand for resignation of Vice-Chancellor Abhijit Chakraborty.
"We have given a notice to all departments of the university, annexing the high court order. We appeal to all to maintain normalcy," JU registrar Pradip Ghosh said. "We have appealed that classes, which are not being held for some days, be resumed," Ghosh said.
The registrar said that he would request police authorities to see that students, who were arrested, were not affected. "We want that their careers are not affected."
Police had arrested 36 students from the university campus on the night of September 16 during its action to free vice-chancellor on a written request from him.
Asked about medical treatment of students injured in the police action, Ghosh said, "The university will sympathetically examine the possibility if there is an appeal." "We have decided this after consulting the vice-chancellor," he said.
Asked when the VC would rejoin office, he said, "He has taken leave as he is unwell. It is up to him to decide when he will come back."
He also said that the VC would send a report to Governor K N Tripathi, who is the Chancellor of the university, as has been sought by him.
The registrar said that the students were yet to reply on an appeal by JU authorities that "if they want they can sit with the VC to discuss the issues relating to the committee set up to inquire into the charge of molestation of the girl student".
The students, however, remained adamant on continuing the boycott of classes till the VC resigned. "Academic boycott will continue till our demands are met," one of the student leaders said after a meeting of the agitating students.
"We will march to Lalbazar (Kolkata police headquarter) on Thursday demanding that cases registered against the 36 students be withdrawn," said another student leader.
Acting on a PIL seeking restoration of order in JU, the Calcutta high court had on Friday directed the West Bengal government to inform through an affidavit the steps it has taken to restore normalcy in JadavpurUniversity including the details of police action on students on the intervening night of September 16 and 17.
Image: Students of Jadavpur University continue to protest demanding the removal of vice-chancellor. Photograph: Dipak Chakraborty