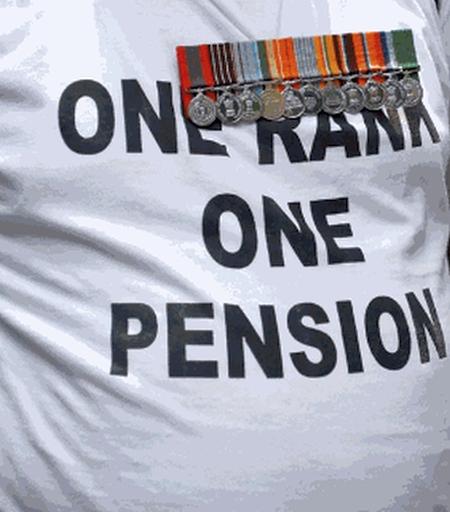 A 70-year-old ex-serviceman has committed suicide by consuming poison over the issue of One Rank One Pension scheme in New Delhi.
Ram Kishan Grewal from Haryana's Bhiwani district ended his life in the lawns behind the Jawahar Bhavan, which houses the external affairs ministry, on Tuesday evening.
Police said he and three of his companions had come to Delhi apparently to submit a memorandum to the defence ministry over the OROP issue.
"Saddened by the death of subedar Ram Kishen Grewal. I express my heartfelt condolences. I have asked officials to provide me with details," Defence Minister Manohar Parrikar said in a tweet.
According to his friends, Grewal, who served in the Army and the Defence Security Corps for 30 years, had been upset over the issue for sometime.
Defence Ministry sources said as per records, no request for appointment with Parrikar was made.
Chief Minister Arvind Kejriwal targeted Prime Minister Narendra Modi over the suicide of the ex-serviceman, saying both farmers and soldiers were ending their lives in his regime.
Kejriwal, a bitter critic of Modi, also alleged that the prime minister was "lying" that the OROP scheme was being implemented by the Centre, contending that Grewal would not have committed suicide if the scheme was being executed by the Centre.
The alleged suicide came just days after a one-man judicial committee on OROP submitted its report to Parrikar. The committee, under the chairmanship of retired Patna High Court Justice chief justice L Narasimha Reddy, was tasked with looking into the anomalies, if any, arising out of the implementation of OROP. The ministry is currently studying the report and sources had said it will take a decision soon.
A group of ex-servicemen has been holding protests at Jantar Mantar, Delhi's designated site for protests, to demand changes in OROP. Protesters say four of their primary conditions have not been met by the government.
They, however, distanced themselves from the Grewal's suicide and said the issue should not be politicised.
They also said all politicians, including Delhi CM Kejriwal, should stay away and the government should sort out the OROP "mess".
"The suicide did not take place at Jantar Mantar. His friends had informed the police about the suicide bid, but it was too late. He was taken to Ram Manohar Lohia Hospital from where they wanted to bring the body to Jantar Mantar, which we refused," Col Anil Kaul (Retd), media advisor to United Front of Ex-Servicemen Movement (UFESM), said.
He said the group did not believe in violence. Their main demands are revision of pension every year rather than the five years as decided by the government and OROP being extended to premature retirees.
Ironically, Major General Satbir Singh (Retd), who is leading the group of protesting ex-servicemen, is now an advisor to a new political party, Fauji Janta Party, which will fight in the upcoming Punjab assembly polls. He did not respond to calls or messages.