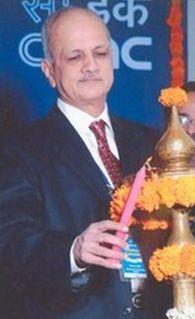 Indian Police Services lost the race for having one of its officers as the head of National Technical Research Organisation, the country's top intelligence and surveillance agency, with the government appointing a retired Indian Administrative Services officer to the post.
Rentala Chandrasekhar, an IAS officer of 1975 batch of Andhra Pradesh cadre, who retired as Telecom Secretary on March 31 this year, was named as the chairman of NTRO.
According to an official notification, Chandrasekhar will hold the post for a period of three year from the date of assumption of the charge or until further orders.
His name was cleared by Appointments Committee of Cabinet headed by Prime Minister Manmohan Singh. This is for the first time that an IAS officer had been appointed to head the organisation whoso primary job was to carry out surveillance operations which included telephone tapping.
The IPS officers, along with sleuths of RAW Allied Services, had been on a war path with scientists lobby to head the organisation.
As a result of the fight, no one was being appointed chairman and incumbent P V Kumar, a former RAW officer, continued to head the organisation with two extensions after his term had ended last year.
The name of Chandrasekhar was given to the ACC and the same cleared, making him the first IAS officer to head an organisation which comprises sleuths and scientists.
NTRO, whose road map was drawn up by former President A P J Abdul Kalam during his tenure of Scientific Advisor to the government in 2001, is mainly tasked to prevent cyber threat and also provide and analyise technical intelligence. It was set up in 2004 and was tasked to be a highly specialised technical intelligence-gathering agency whose expertise would be used by other intelligence agencies like IB, RAW and Military Intelligence.
Image: Retd IAS officer Rentala Chandrasekhar