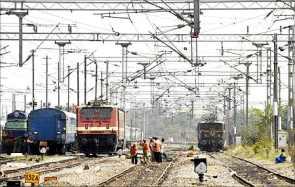 The Central Bureau of Investigation is likely to question railway board members, including its chairman, in connection with the Rs 10 crore bribery scandal involving suspended board member Mahesh Kumar and nephew of Railway Minister P K Bansal.
The CBI has collected all the documents from the ministry related to elevation of Mahesh Kumar from the general manager (west) to member (staff). CBI sources said prima facie analysis of files indicate that Kumar was allegedly favoured by Railway authorities who have recommended his name for the elevation, ignoring other senior officials who could have made it to the board.
The sources said Kumar, who is under the custody of the CBI along with Bansal's nephew Vijay Singla, was allegedly favoured while being appointed as Member (Staff). The sources, however, emphasised that they have not come to a final conclusion after the analysis of the documents and these are just preliminary findings. They said the agency will go through the minutes of the appointment committee of the Cabinet which has chosen Kumar for the board membership.
The sources said one of the business associates of Singla has come in handy for the CBI, as he reportedly spilled the beans about the Rs 10 crore bribery scandal.
The sources said information given by this associate during the investigation has indicated that the bribe amount, which was delivered to Singla on May 3, was meant for some top authorities in the railway ministry.
Withholding the name of the erstwhile associate of Singla, the sources this person would be their key witness in building a case against the accused and said making his name public could compromise the probe.
At the moment, the agency is focusing to prove that Rs 90 lakh, recovered by it when Singla was apprehended, was actually the bribe amount.
In order to establish it, the agency is banking on phone intercepts, which show Bansal's nephew was in regular touch with the officials of the railway ministry who worked closely with the Minister.
The sources said the intercepts between businessman Manjunath, who was arranging the alleged bribe money for Kumar, would also come in handy to bolster its investigations. They said the role of Bansal is under probe but it is at a very initial stage. The sustained questioning of the accused will bring out the entire conspiracy.