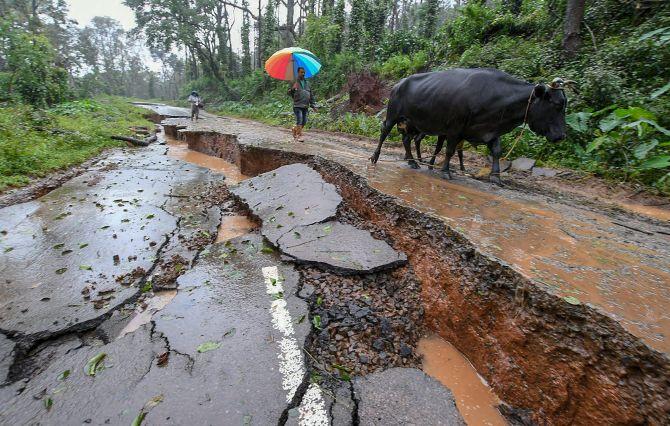 More than 3,500 people have been rescued till Sunday in Kodagu district of Karanataka, where six people have lost their lives in floods and landslides following heavy rains in the past several days.
President Ram Nath Kovind and Prime Minister Narendra Modi spoke over phone to Chief Minister H D Kumaraswamy, who is camping in the rain-battered district, over phone and enquired about the situation.
Modi assured to extend all required assistance to the state to face the situation, the Chief Minister's office said.
'Extended all possible support in the rescue and relief operations. I pray for the safety and well-being of those in the flood affected areas,' the PM tweeted.
Kumaraswamy informed Kovind that the district administration was managing the rescue-and-relief work efficiently, along with the army, National Disaster Response Force and other agencies, and have rescued more than
3,500 people so far, the CMO said in a statement. As many as 317 people, including a two-month-old infant, were rescued and shifted to relief centres since Saturday and rescue operations were on in and around Makkandooru and other affected areas on Sunday, they said.
Food and basic amenities have been arranged at all the 31 relief shelters.
Nearly 1,000 personnel from the Armed Forces, National and State Disaster Response Forces, Civil Defence Teams, Fire and Emergency Personnel have been pressed into the rescue work since August 15.
Local youths and volunteers of various organisations are also assisting in the operations.
Kumaraswamy undertook aerial survey of affected areas for the second day on Sunday.
He also assessed the situation in a few other areas of the district by visiting them.
Speaking to reporters, the Chief Minister said the government was taking steps so that relief, especially food reached every one, even in the remotest places.
Describing the situation as a difficult time, he said the governments intention is to bring people out of fear and anxiety that they are going through, by rescuing them first.
Later speaking to people at a relief camp at Suntikoppa, Kumaraswamy said his government would take all steps for rehabilitation of the people of Kodagu.
He held a meeting with the district administration and senior officials and reviewed the rescue and relief work.
Karnataka Bharatiya Janata Party unit president B S Yeddyurappa also visited Kodagu district and assured to get required assistance from the party-led central government.
BJP legislators from Bengaluru and partys Bruhat Bengaluru Mahanagara Palike (city civic body) corporators have pledged their two month salary to the Chief Ministers relief fund for the relief work.
Several good samaritans, organisations and Kodava communities from various parts of the state, especially from Bengaluru, are collecting relief materials like food, drinking water, medicines and other things to be dispatched to the flood-hit areas in the Kodagu district.
There were also reports about flooding and landslides in a few districts of coastal and Malnad region, especially in Chikkamagaluru district, affecting road connectivity.
Several districts of coastal and Malnad regions like Dakshina Kannada, Udupi, Chikkmagaluru, Kodagu, parts of Hassan and Uttara Kannada, have been battered by incessant rains in the last few days.
TN CM visits flood-hit areas, assures compensation for crop loss
Tamil Nadu Chief Minister Edappadi K Palaniswami on Sunday assured compensation for crop loss due to the floods caused by heavy discharge of water from the state's dams and permanent houses for the affected people.
The dams, including Mettur and Bhavanisagar, have been discharging huge volumes of water in view of continuing high inflows from Karnataka reservoirs including Krishnarajasagar.
The discharge has resulted in inundation of a slew of villages and submergence of standing crops along the banks of Cauvery, (its tributary Bhavani in Erode) in several districts of Tamil Nadu.
As the level in Vaigai dam in Madurai district touched 69 feet (maximum 71 feet), water was released from it on Sunday, officials said.
Around 3,100 cusecs of water was being released from the dam, they added.
The officials said catchment areas of the dam were receiving heavy rains and the inflow into the dam was 3,333 cusecs and added a flood alert has been issued to five districts including Theni, Madurai, and Sivaganga.
"Presently, inflow into Bhavanisagar dam is 21,000 cusecs and discharge is 3,000 cusecs. From the Mettur reservoir the outflow is 2 lakh cusecs and the inflow is about 1.95 lakh cusecs," Palaniswami said after inspecting flood-hit areas in Bhavani.
Speaking to reporters after inspecting affected areas at Pallipalayam in Namakkal district, the Chief Minister said the inflow at Bhavanisagar dam has gone up to 31,000 cusecs and discharge stepped up to 15,000 cusecs.
"It will be 2.15 lakh cusecs when the waters reach Pallipalayam from Bhavanisagar and Mettur (about 2 lakh cusecs) reservoirs," he said.
To a query on water not reaching the tail-end regions of Cauvery delta despite excessive inflows, he said farmers in such areas will get water in one or two days and added that a team of officials were working on it.
On linking intra-state rivers, he said the state government was studying it and added that check dams would be constructed wherever possible for optimal utilisation of water.
"The government will give compensation for crop damage after the flood waters recede," he said.
In Erode district, 47 villages and 609.69 hectares of crops, including horticulture, have been affected.
Those residing along the banks of the rivers Bhavani and Cauvery have requested safe, permanent houses and government would take steps to fulfil their request, Palaniswami said in reply to a question about the representation from the affected people.
As many as 7,832 people have been sheltered in relief centres in Erode district, where 263 houses were fully damaged, he said.
A flood alert was sounded for 13 districts, including the Cauvery delta regions, besides Madurai and Theni as the Periyar and Vaigai dams too received copious inflows.
Textiles Minister O S Manian inspected flood-hit villages close to the banks of Coleroon river, a branch of Cauvery in Nagapattinam district by going around in a boat.
Revenue minister R B Udayakumar, who visited flood-affected areas in Kanyakumari district, said the government was taking enough steps to ensure that there was no drinking water shortage in the flood-hit areas.
Meanwhile, Municipal Administration minister, S P Velumani visited Valparai in Coimbatore district, which bore the brunt of the rains for the last one week and distributed relief materials.
Several truck loads of relief materials were despatched from a number of district collectorates including Tiruvannamalai on Sunday.
All India Anna Dravida Munnetra Kazhagam top leader and Deputy Chief Minister O Paneerselvam flagged off six truck loads of relief materials to Kerala on behalf of his party's Theni unit.
Mathrubhumi's (a Malayalam daily) Chennai edition, Rashtraiy Swayamsevak Sangh affiliated Seva Bharathi and volunteer groups were among those who have sent relief materials.
A hotel in Shencottah in Tamil Nadu close to the Kerala border offered free food to those arriving from the neighbouring State as a mark of solidarity.