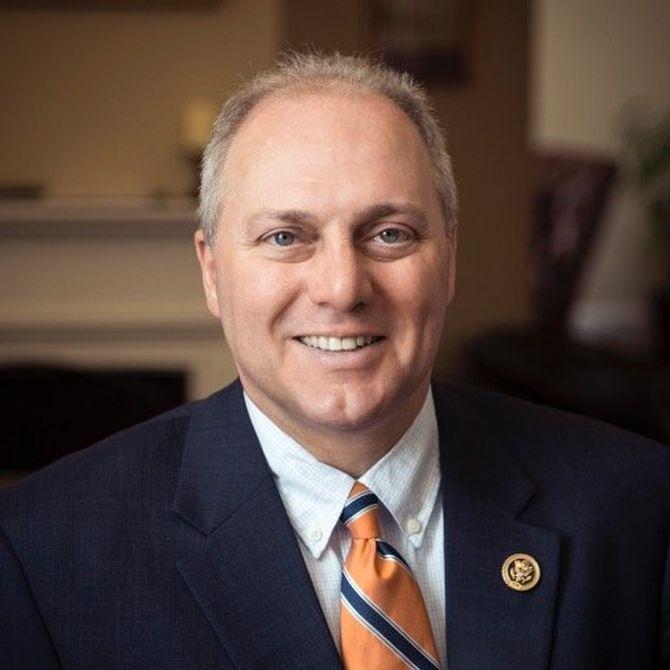 A top Republican lawmaker and two police officers were among five people injured when a rifle-wielding man sprayed bullets on them during a practice session for an annual baseball game in a Washington suburb, the latest incident of gun-violence to have rocked the nation.
House Majority Whip Steve Scalise, 51, was shot in the hip during the practice at a field in Alexandria, Virginia, by the gunman identified as James Hodgkinson, 66, who was shot dead by the police.
"Authorities are continuing to investigate the crime, and the assailant has now died from his injuries. The FBI is leading the investigation, and will continue to provide updates as new information becomes available," United States President Donald Trump told reporters at a hurriedly convened brief media interaction at the White House.
"Congressman Steve Scalise, a member of House leadership, was shot and badly wounded and is now in stable condition at the hospital, along with two very courageous Capitol Police officers. At least two others were also wounded," Trump said.
The president stressed that many lives would have been lost if not for the heroic actions of the two Capitol Police officers who took down the gunman despite sustaining gunshot wounds during a 'very, very brutal assault'.
"Congressman Scalise is a friend and a very good friend. He's a patriot and he's a fighter. He will recover from this assault. And Steve, I want you to know that you have the prayers not only of the entire city behind you, but of an entire nation and, frankly, the entire world," Trump said.
"America is praying for you and America is praying for all of the victims of this terrible shooting," he said, while calling for unity.
The shooting targeting Congressmen has shocked many in the US, where an intense debate is raging on gun control after a series of shooting incidents in the past few years.
Aides of Scalise, who is the House Majority Whip, in which capacity he is the third ranking member of the ruling Republican party, said the congressman was stable.
He was first elected to Congress in 2008, after serving as a member of the Louisiana state legislature for more than a decade.
Scalise served as majority whip for roughly three years.
A second congressman Roger Williams was also injured, but it was unclear if he was shot or injured in some other way.
"Five people were transported medically from the scene," Alexandria police chief Michael Brown told reporters.
"This morning, at a practice for the Congressional Baseball Game, Whip Scalise was shot in the hip. He was transported to MedStar Washington Hospital Center, where he is currently undergoing surgery. He is in stable condition," his office said in a statement.
"Prior to entering surgery, the Whip was in good spirits and spoke to his wife by phone. He is grateful for the brave actions of US Capitol Police, first responders, and colleagues," the statement said.
The Federal Bureau of Investigation has taken the lead in investigating the case.
"Everyone on that field is a public servant -- our courageous police, our congressional aides who work so tirelessly behind the scenes with enormous devotion, and our dedicated members of Congress who represent our people," Trump said.
"We may have our differences, but we do well, in times like these, to remember that everyone who serves in our nation's capital is here because, above all, they love our country," he said.
"We can all agree that we are blessed to be Americans, that our children deserve to grow up in a nation of safety and peace, and that we are strongest when we are unified and when we work together for the common good," Trump said.
According to law enforcement officials, the shooting appeared to be a deliberate attempt.
Media reports said that the shooter apparently volunteered for the presidential campaign of Senator Bernie Sanders.
"I have just been informed that the alleged shooter at the Republican baseball practice is someone who apparently volunteered on my presidential campaign," Sanders said in a statement.
"I am sickened by this despicable act. Let me be as clear as I can be. Violence of any kind is unacceptable in our society and I condemn this action in the strongest possible terms," Sanders said in a statement.
Speaking on the Senate Floor, Senate Minority Leader Charles Schumer said he is 'absolutely shaken' by the news of a shooting early this morning at the baseball field in Alexandria where many of his friends and colleagues were practicing for the annual congressional baseball game -- an event that brings them together each year.
"It's been reported that Representative Scalise, the House Whip, was shot during the attack, as were two brave members of the Capitol Police force and others, including a staffer. Let us pray that they -- and any others who were injured -- are able to recover quickly," he said.
Trump, in his address, said, 'Shortly after 7 am this morning, a gunman opened fire on members of Congress and their staffs as they were practicing for tomorrow's annual charity baseball game'.
The president said he and the First Lady are grateful for their heroism and praying for the swift recovery of all victims.
According to a senator, nearly 50 shots rang out during the exchange of fire between the gunman and the lawmakers' security detail.
About 25 senators and congressmen were practicing for more-than-a-century-old Congressional Baseball Game scheduled for June 15 at Nationals Park when the shooting took place.
The CNN quoting congressional and law enforcement sources said the shooting appears to be a 'deliberate attack' and lasted for about 10 minutes.
Congressman Ron DeSantis, who left the scene just before the shooting began, said a man had asked him if it was Republicans or Democrats practicing as he walked to his car.
"About three minutes later, at around 7:15 am the shooting began."
Earlier on Wednesday, Trump, in a statement, said he was closely monitoring the developments in Virginia. "The vice president (Mike Pence) and I are aware of the shooting incident in Virginia and are monitoring developments closely."
"We are deeply saddened by this tragedy. Our thoughts and prayers are with the members of Congress, their staffs, Capitol Police, first responders, and all others affected," the president said.
According to a White House official, Trump has spoken to Scalise's wife, the Speaker of the House, and other leaders of the Senate.
Senator Rand Paul described the scene as 'sort of a killing field'.
"Without the Capitol Hill police it would have been a massacre," he told Fox News.
Congresswoman Nancy Pelosi called the shooting a 'despicable and cowardly attack'.
"We are profoundly grateful for the heroism of the Capitol Police, whose bravery under fire undoubtedly saved countless lives. On days like today, there are no Democrats or Republicans, only Americans united in our hopes and prayers for the wounded," she said.
Senator Dick Durbin said, "We owe an enormous debt of gratitude to the United States Capitol Police who put their lives on the line this morning and each and every day to keep members, staff, and visitors safe."
Indian-American Congressman Raja Krishnamoorthi called it a horrible, senseless violence.
"I was not at the scene today, but my thoughts and prayers are with Congressman Scalise, the Capitol Police officers and others who were shot, and their families," he said.
IMAGE: Steve Scalise. Photograph: @SteveScalise/Twitter